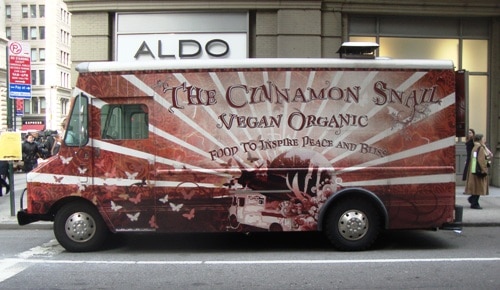 It's been a while since we've been to the Cinnamon Snail, and just our luck, they had a brand-new daily special today.
The "Spicey (sic) New Special" was Sambal Olek Grilled Seitan, which cost $10.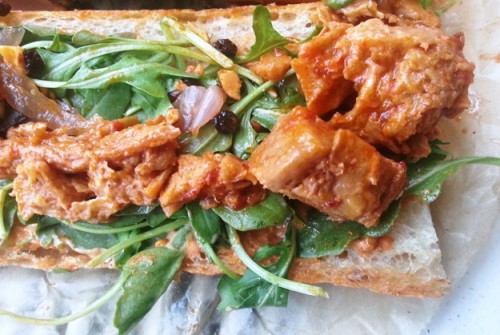 Like most of the Cinnamon Snail's offerings, there was a laundry list of ingredients in the sandwich: pickled red onions, Thai basil, miso-soaked black currants, arugula, spicy roasted ground peanuts and sriracha mayo. Whew!
We enjoy seitan because it's chewy and has body. There's enough mass to stand up to the slew of ingredients, many spicy, that the crew loads onto the baguette.
The black currants added an underlying fruitiness when we got one in a bite. They weren't in every bite, but about half of the bites had a currant, which we really enjoyed. They added a small, sweet dimension to the lunch.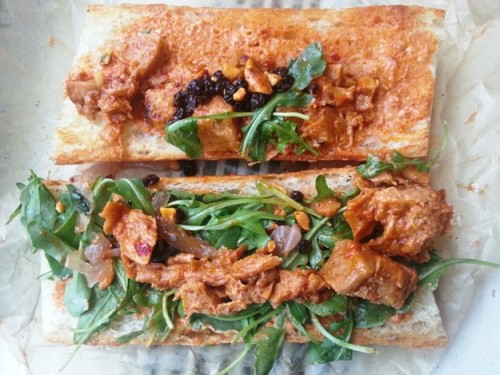 Besides adding texture to the sandwich, the arugula added a touch of bitterness, but only a touch. Speaking of greens, the Thai basil wasn't really noticeable.
We also liked the flavors the pickled red onions and crushed peanuts added to the overall taste.
Needless to say, this was a pretty spicy sandwich, with the sriracha mayo doing most of the work on that front.
The only disappointing thing about this lunch was the size of the baguette. It was nicely grilled, but clocked in at a measly 6 inches. That's only slightly longer than the pen we use. Everyone knows the adage about too much of a good thing, but this was too little of a good thing. Big flavor, but a small size.
The food at the Cinnamon Snail can't be beat, and they are still one of the most popular food trucks in NYC. Make sure you get there early, or else the wait can be 1/2 hour or more for lunch.
You can find the Cinnamon Snail on Twitter here or on our Mobile Munchies Twitter feed. They are in a different location every day, so that's your best bet.