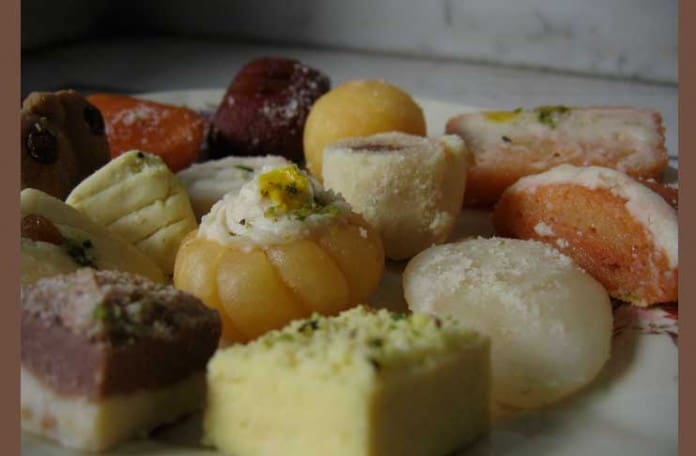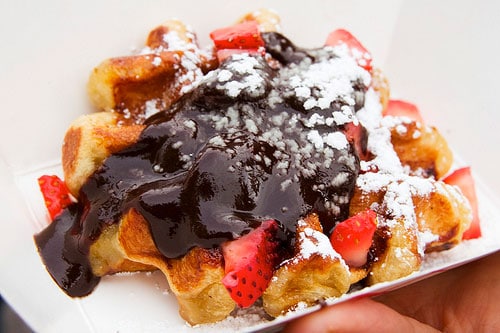 Wafels & Dinges is the subject of our latest New York Street Food Featured Vendor Profile.  W&D was founded in October 2007 by Thomas DeGeest, a Belgian native who had been in the US for 10 years as a management consultant with IBM.  Like many of us, Thomas wanted to control his own destiny, and was also looking for a way to re-connect with his homeland.  He has done both in a wonderful way, bringing the joy of wafels and dinges to thousands of people, and winning the 2009 Vendy Award for Best Dessert.  We recently spoke with Thomas and filed this NYSF Featured Vendor Profile:
NYSF: How did you come up with the idea of selling wafels and dinges from a truck?  Did you have any food or business background?
Thomas: I had a good job with IBM, and had a general business background, but did not have any food background.  I wanted a way to re-connect with Belgium and chose wafels because they are a happy food.   I originally thought of opening a restaurant, but then heard about a food truck that was being sold.
NYSF: Where do you get your recipes from, and how do you come up with the ideas for the various toppings (dinges)?

Thomas: The recipes are traditional Belgian recipes.  The Brussels wafels are from the north of Belgium and the Liege wafels are from the south.  We still import the main ingredients used to make the wafels from Belgium.
NYSF: Wafels and Dinges is pretty popular. Can you give us some history about wafels?
Thomas: In Belgium they have a long history, but in the US, wafels took off after they were featured at the 1964 World's Fair in New York, which was also the site of this year's Vendy Awards.  The wafel at the 1964 World's Fair was a Brussels wafel, but they called it a Belgian waffle because they didn't think many people would know where Brussels was.  After the World's Fair, the quality of wafels in the US went down significantly, so we wanted to bring the quality of Belgian wafels back to where  they belong.
NYSF: Do you prefer the Brussels wafels or the Liege wafels?

Thomas: I can't choose one over the other.  That's like asking me to choose between children.
NYSF: Other than wafels, what are your favorite types of foods?
Thomas: Mussels, frites and beer.
NYSF: What about non-Belgian food?
Thomas: I like Brazilian churrascaria, Korean grilled BBQ, basically things with a lot of meat.
NYSF: What are your future plans for Wafels & Dinges?
Thomas: We have a partnership with Rockin' Joes Coffeehouse in NJ where our wafels are also sold.  We plan on adding 1 or 2 wafel carts this spring, and have a couple of events planned this summer at the old World's Fair grounds in Flushing Meadows Park.
NYSF: Do you have any advice for aspiring street food entrepeneurs?
Thomas: I would say to be aware of the numbers and to be realistic about them.  Start with a clearly defined concept, and work to build a brand, not just sell food.
NYSF: Thank you for your time and best of luck with Wafels & Dinges.  It was a pleasure speaking with you.
Thomas: Thank you.