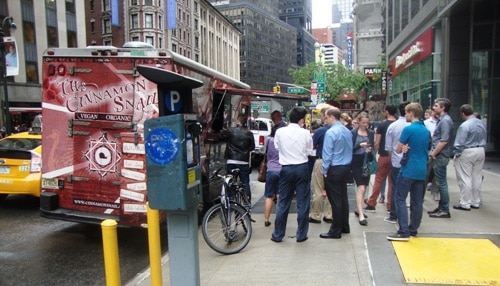 In our quest to highlight the sheer variety of burgers available on the streets of NYC, Day 4 of Burger Week is a vegan gochujang burger from the Cinnamon Snail.
Most people think of beef, turkey or even lamb when they think of burgers, but today's gochujang burger, which cost $10, will make you think differently about burgers.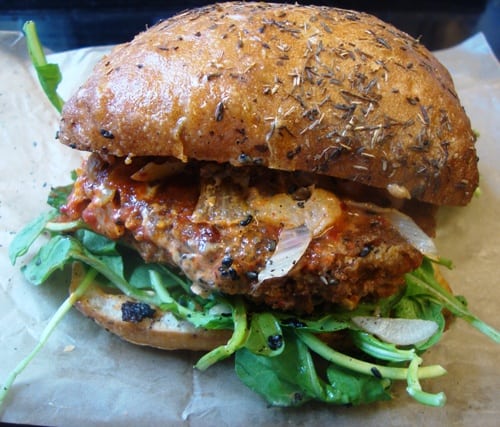 Before we get into the meal, I want to talk about whether the Cinnamon Snail is getting too successful.
When I walked up to the truck, there were about 10 people waiting for lunch, and a line of about 10.  From the time I got on the end of the line to receiving my lunch, it was 30 minutes.  That's too long for anyone to wait for lunch.  I know they are looking for line chefs, so adding another person to the truck should help cut down the waiting time.
As for the food, that's why there's such a line in the first place.  The gochujang burger was made with a seitan patty base and included kimchi, Korean chili paste, pickled daikon & leeks, arugula, black sesame gomashio and sriracha mayo.
It was spicy and delicious.  The bites with pickled daikon were an interesting mix with the kimchi, and the sriracha mayo added a nice creaminess to the burger.  Being a vegan truck, I'm not sure how they make the sriracha mayo, but it was good.
The roll was an herbed focaccia bun, which was soft but sturdy, and the herbs on top added to the flavor of the burger.
The gochujang burger was definitely as big and satisfying as a meaty burger for lunch.  That said, I still had to get dessert.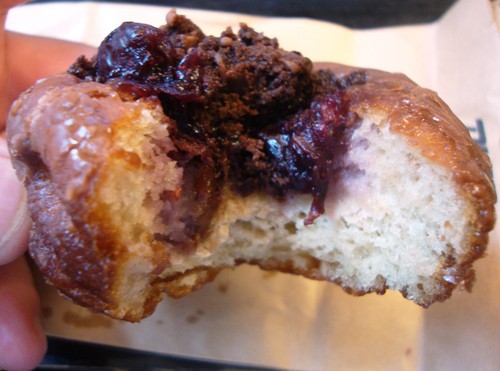 The Cinnamon Snail has amazing pastries, and the cherry chocolate brownie donut looked too good to pass up.  It cost $3, which isn't cheap for a donut, but it was worth it.
The glazed donut  had a filled center of chocolate brownie pieces and cherries.  Chocolate and cherries are always a great combo (think chocolate covered cherries), and on a glazed donut, it was very tasty.  The chocolate was intense, with the fruity cherries rounding it out.
The Cinnamon Snail can be found on twitter here or on our Mobile Munchies twitter feed.