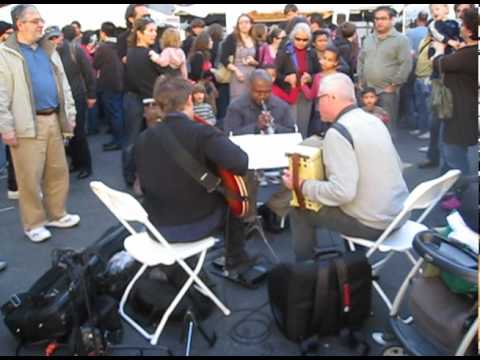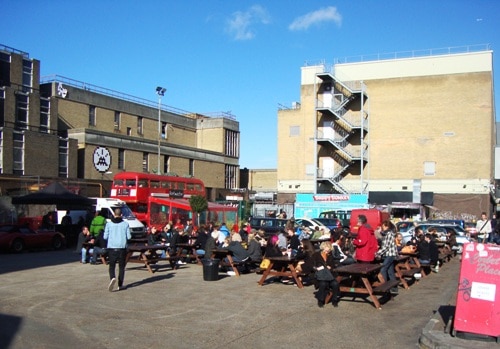 While there were a few decent street food dishes at Portobello Road, the Sunday Up Market just off Brick Lane in East London was an embarrassment of riches.  There were food stalls all over the place.  I went last Sunday, but didn't have a chance to write up such a full day until I was on the plane home.  Here's my report:
Before I even wandered into the Up Market, I encountered a plaza with food trucks and trailers behind the Up Market.  There was a high-end burger stand called the Good Bye Grille, a converted London vegan bustaurant called the Rootmaster, a great looking trailer with Mexican food called Daddy Donkey, and a Thai/Lao trailer intentionally covered with graffitti.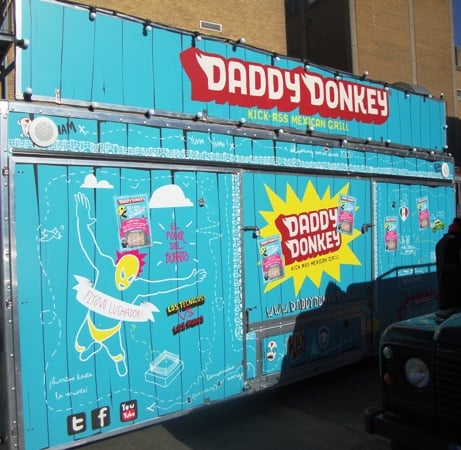 The Daddy Donkey trailer wasn't opening until next weekend, but this is their 2nd location.  I spoke with 2 of the owners for a while about street food in New York and London and Mexican food in general.
Joel told me that he lived in Mexico and the US for a few years and wanted to bring Mexican cuisine to London, where it's pretty scarce.  If you're in London, definitely check them out.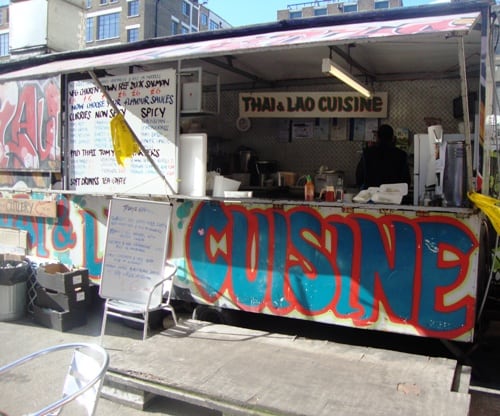 The burgers also looked great, but I wanted something smaller, so I ordered some spring rolls (8 mini spring rolls for £2) from the Thai trailer which were pretty basic.  Nothing to write home about.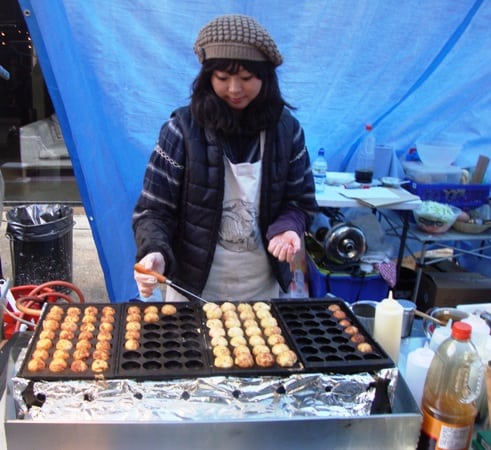 But when I headed towards the Up Market, I passed a small Japanese takoyaki stand.  Takoyaki is a fried ball where they pour dough into these muffin-type pans over a grill.  It usually has pieces of octopus in it, but they also made some with just cheese.
I ordered a half portion (4 for £3) with 2 octopus and 2 cheese.  She put teriyaki sauce on top, then some Japanese mayo, sprinkled on powdered seaweed and handed it over.
I almost burned my mouth because it was very hot.  The octopus wasn't tough or fishy, and quite enjoyable, and the cheese ones were great too.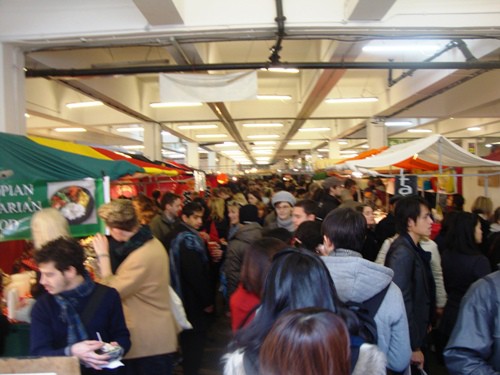 Then I turned the corner and headed into the Up Market.  There had to have been at least 25 stalls with a huge range of cuisines including Caribbean, Ethiopian, Turkish, Thai, Chinese, hot Japanese food, sushi, Mexican, Tibetan and I'm sure I missed a few.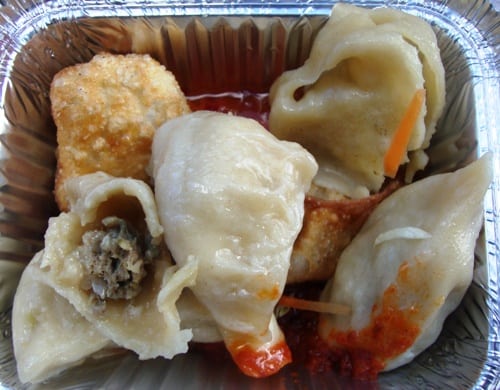 The first thing I had after walking around was Tibetan momos, which were basically dumplings.  They had 6 different kinds (chicken, pork or veggie steamed or fried) and sold 6 for £4, so I got 1 of each type.  They were good, but not that different from the Chinese dumplings we usually get at home.  I liked them, but they weren't anything different.
Many of the stands had 3 or 4 different types of their native stews bubbling away. There were Chinese, Malaysian, Thai, Indian, Caribbean, Turkish, Sri Lankan and a few other types of stews available.  But I knew a stew would be ultra-filling, and I wanted to try a few different things.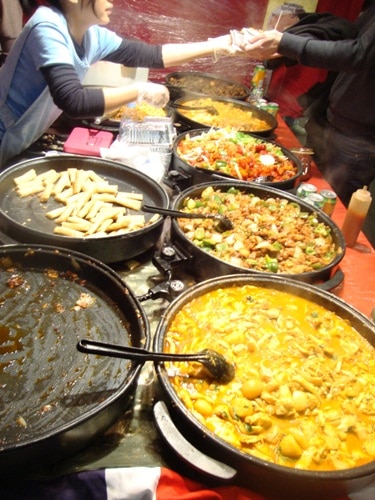 A Turkish food stand had a couple of interesting small items – feta cheese wrapped in filo dough and icli kofte, which is minced lamb, onion and parsley dipped in batter, deep fried on a stick and served with hummus and a tzaziki type sauce.  I chose the latter, and enjoyed the icli kofte (£2) a lot.  It was similar to a corn dog, but the center was spiced, minced lamb instead of a hot dog.
I was getting pretty full at this point, and decided to check out some of the merchandise in another area of the market – but on the way, there were two more food stands.  One had Argentinian sausages and small steaks cooking on a grill and the other had a whole pig roasting.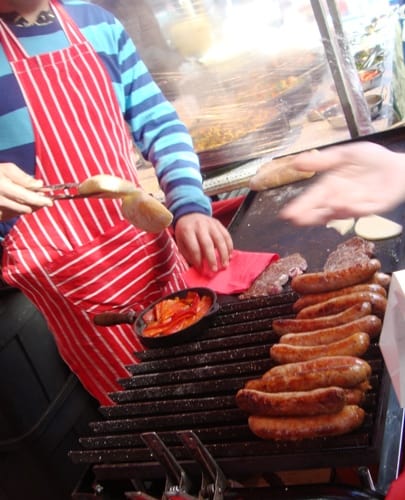 I was too full to eat either, but the guy at Hog Roast insisted I try a sample when he saw me checking out his stand.  I only had 1 bite, but it was juicy and delicious.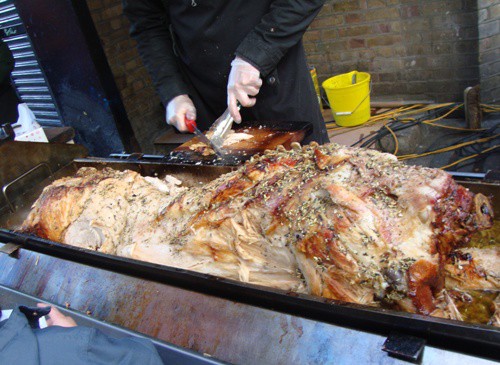 The merchandise stands had a lot of older housewares like dishes, glasses and silverware.  Some were antiques and some were just cool old stuff.  One place had a couple of old record players from the 40's, but I wasn't going to spend a few hundred pounds on anything like that today.
In the same area of the market was Ms. Cupcake, who sold vegan cupcakes and dressed pretty kitschy.  I guess men are from bacon and women are from cupcakes because I eagerly tried the hog roast, but had no interest in trying something from Ms. Cupcake, even if they were "the naughtiest vegan cakes in town".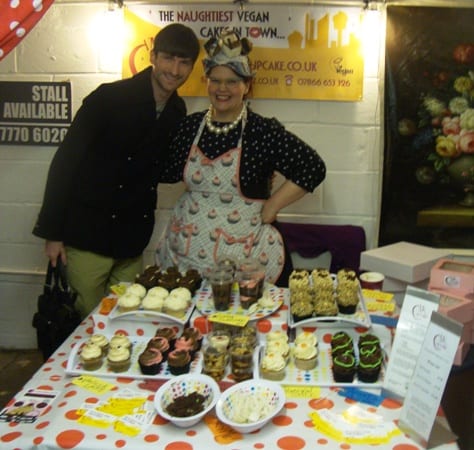 On the way towards the Underground, there was an entirely new section of food stalls, and I was tempted to try one more thing when I saw a sign that said Homemade Empanadas.  There were beef, vegetable and ham & cheese, and the owner recommended beef.
The empanadas were cooked on a type of grill that didn't have direct flames, but the dough still had a slight grilled taste.  The filling had chunks of beef, not minced beef, and it was pretty tasty.
Then, as I was walking along eating my empanada, I came across a Chinese stand with hand pulled noodles.  The guy started with a long, thick noodle and pulled it into thin strands of noodles, which were then cooked fresh to order.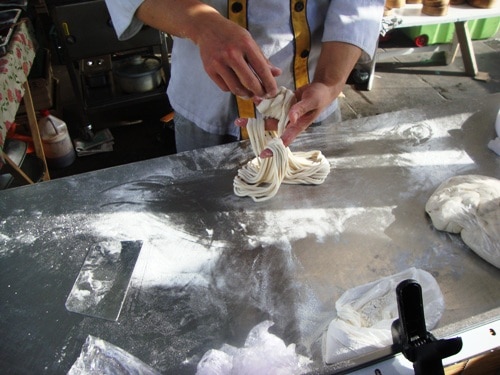 Across from the noodle stand was another churro stand, but this one was unlike any other churro vendor I've seen.  They had churros similar in size to the ones sold by the churro lady at the 53rd St-Lex Ave station…but they had a machine that injected your choice of melted chocolate or caramel into the center.  At this point I was way too stuffed to try one, but I wanted to tell you about it.  Has anyone seen stuffed or filled chorros before?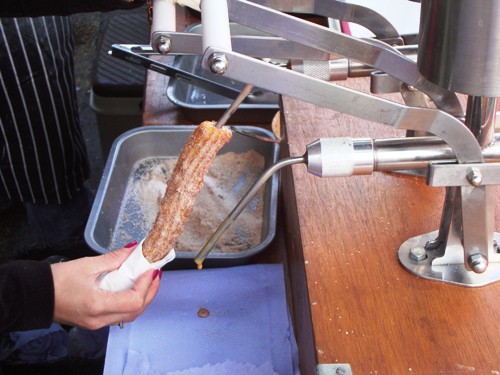 I must say, the food at the Sunday Upmarket was extremely varied and very international, just like London – and New York for that matter.
This was a really fun day at the Sunday Upmarket.  I could go back every Sunday for a year and not eat the same thing twice.  If you go to London, definitely check out the Sunday Up Market.