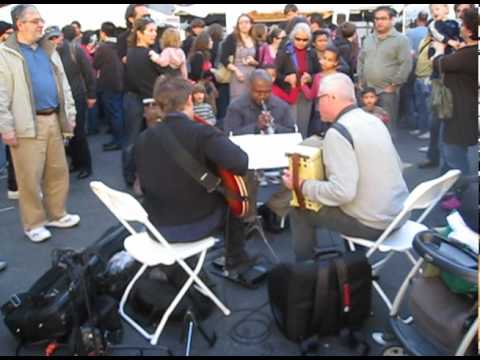 With a couple of days free in London over the weekend, I wanted to check out what street food was available here.  In the research I've done, it seems that most of the street food in London is served at various markets around town, but it hasn't really seeped into weekday lunchtime like in New York.
With that in mind, I hit Portobello Road today and expect to visit the Brick Lane Market on Sunday, which has more of an Indian and Asian feel to it.
Portobello Road in Notting Hill is called the world's largest antiques market, but there is also a food section with stands selling vegetables, cheese, vinegars, fresh fish, and even haggis.  BTW, how in the world can you make a vegetarian haggis?
There were also a bunch of different food stands, which is what I wanted to check out.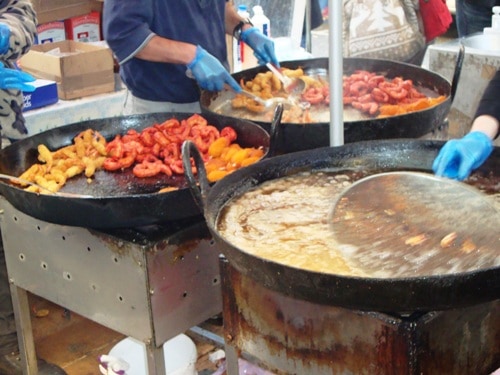 One of the first places I passed had an Italian flag and a sign that said Exotic Seafood Platter of Your Choice for £4 ($6.40).  They were frying and deep frying "crab claws" and "shrimp" in giant pans.  I asked for some breaded and some grilled "shrimp".  Notice I'm putting shrimp and crab in quotes, because it turned out to be that seafood product that looks like shrimp or crab, but really isn't.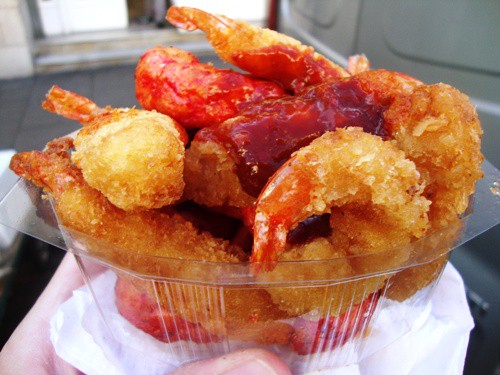 Even though it looked pretty good, it really wasn't.  It had a vague taste of shrimp, but this turned out to be my only misstep of the day.  Unfortunately, it was also the first thing I tried.  The next thing I tried had to be more of a sure thing…and what could be better than some wurst?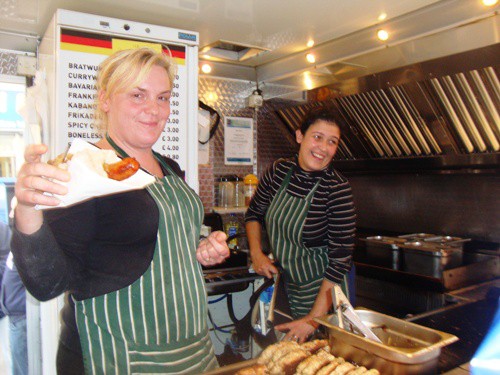 I asked for a Bavarian spicy sausage £3 ($4.80) , which they served on ciabatta bread with grilled onions.  They also had breaded boneless chicken legs, spiced pork burgers, and a few types of wurst, all of which looked great.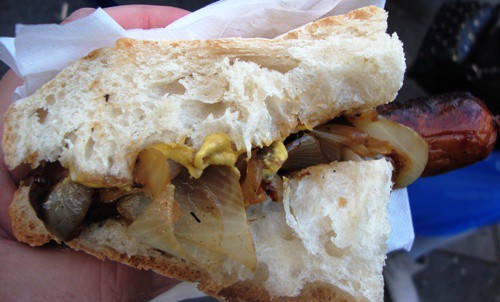 Good call.  The bread was soft, the wurst had that snap on the outside and nice garlicky taste inside, and the mustard and onions topped it off perfectly.  Delicious!
At this point, I only had room for dessert, and there were a few choices.  I passed by 3 different crepe stands because what caught my eye was a churro stand where they made them fresh.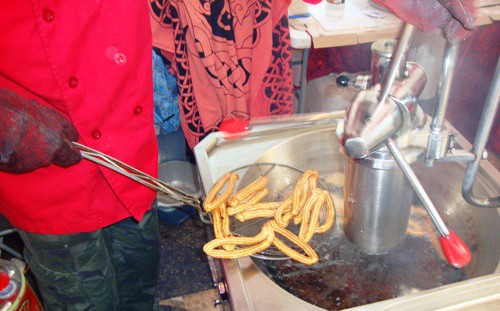 Dough was poured into a machine that was perched over a vat of hot oil, which was scooped up in a big strainer and put onto a tray.  Two girls from Colombia and Spain finished putting the churros together.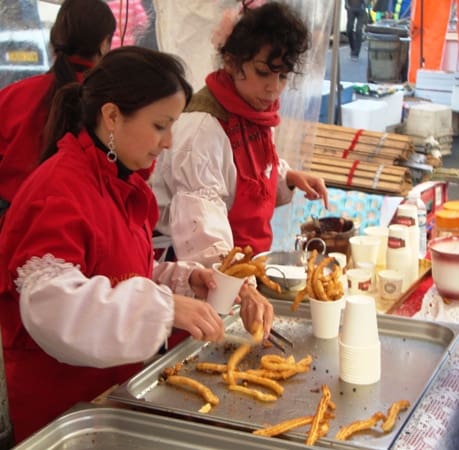 One filled up a cup with churros and the other sprinkled on sugar & cinnamon and poured a small cup of chocolate sauce to dip the churros in.  This is how they eat churros in Spain, after a long night of clubbing.  In New York, I haven't seen the chocolate sauce, but let me know if you have.
The churros £3.50 ($5.60) were pretty good.  They were thinner than the ones we usually get in New York, and the  inside was a little doughier than it should have been, but how can you go wrong with fried dough, sugar, cinnamon & chocolate?  This was a little pricey for churros, but it did come with a cup of chocolate sauce.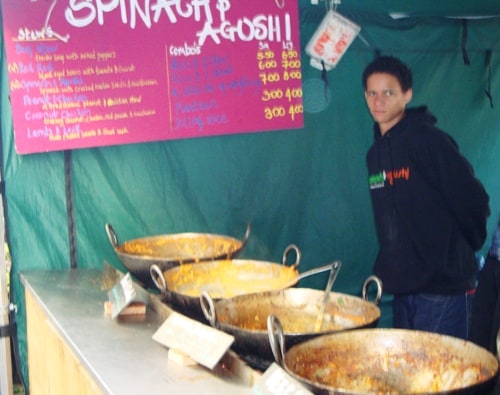 I didn't have room to eat anything else, but there were some other vendors that looked pretty good – Spinach & Agushi, who had 4 different types of Ghanian stews served over rice; Jamon Jamon, who made paella in a giant pan but was sold out by the time I got there, a couple of falafel stands, and even Renee's Diner, which was also closing up.
It was a good day, but next time I have to get there a bit earlier.