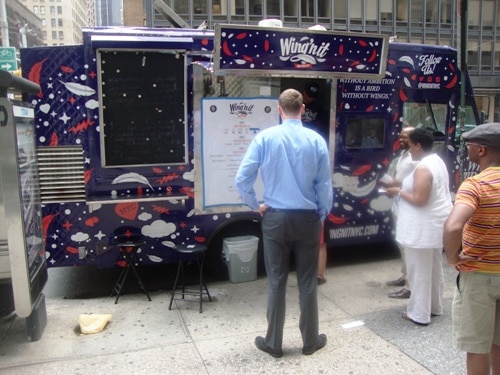 Walking down Broadway yesterday, we caught sight of a new food truck at 54th St. The truck is called Wing'n it, and yes, they specialize in chicken wings.
The menu lists grilled, baked, fried and steamed as the choices of cooking method. There were 7 different types of sauces listed, plus a few sides – and even some breakfast items!
We went for 6 of the classic Wing'n Buffalo and 6 of the A.M.W (apricot, maple, whiskey). Half a dozen cost $6 and a dozen is $11.50.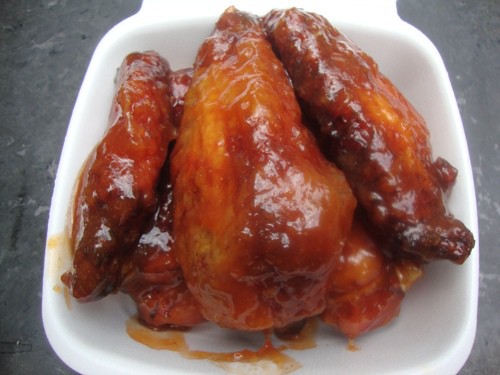 While they were preparing lunch, we struck up a conversation with Victor and John, the cousins behind Wing'n it. They told me the truck was bought from Marky Ramone's Cruisin' Kitchen. Hopefully there's more demand for wings than balls.
Being a new truck, they were still working out the kinks. In this case, it meant they only had baked wings available at 1pm, the height of lunch hour. The fried and grilled wings were already sold out, and the steamed option was taped over on the truck's menu.
We started with the A.M.W. so our first taste wouldn't be tainted by the heat of the buffalo wings on our tongue.
The A.M.W. sauce was a sweet glaze, and the apricot flavor was readily apparent. Nice and fruity. The maple wasn't as evident, but the faint taste of whiskey did come through.
If you like thick, sweet and fruity bbq sauces, the A.M.W. is a good option, although we would have liked a little more maple flavor in the sauce.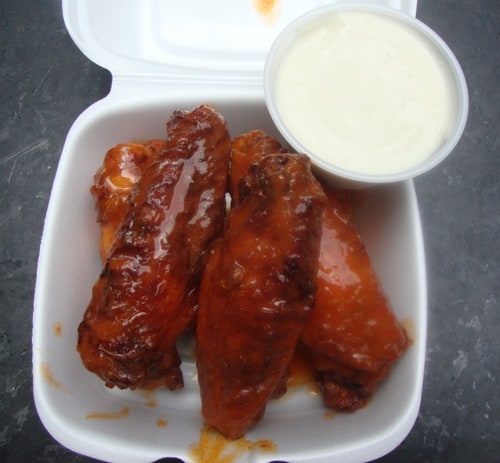 The Wing'n Buffalo came with a choice of ranch or blue cheese, and we'll always opt for the latter of these two.
Make sure you get one of these two dipping sauces – because these babies are HOT! Ranch or blue cheese dressing are needed to cool things off a bit, but even after dipping, they were still pretty damn spicy.
If you don't like hot wings, stay away from the Wing'n Buffalo, but if you like heat, definitely give them a try.
A dozen wings held us until dinner, and 1/2 dozen and a side should as well.
There are also combinations you can get with 1/2 dozen wings and a side order of mac & cheese, fried rice (?!) or tater tots. The sides are $3.50 by themself, but only $1.50 with a wings order. That's the kind of creative pricing we like to see.
Here's the wings portion of the menu.
You can find Wing'n it on twitter here or on our Mobile Munchies twitter feed. Their facebook is here, but the website link from twitter doesn't seem to be working.
Not only did they get the wings right, but they got the 2nd most important thing right when serving wings – including plenty of napkins and wipes with each order.