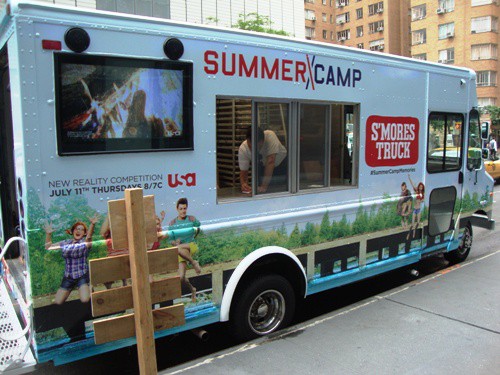 Walking to the office from the subway at Columbus Circle, we saw a S'mores Truck this morning. What a great way to start the day!
They will be giving away FREE S'mores to promote the show Summer Camp, which debuts tonight at 8pm on USA Network. What could be more "Summer Camp" than S'mores.
The truck will be giving away FREE S'mores at 3 different locations today, until 6pm, so click through for all the deets.
We couldn't get a sample because they weren't cooked up yet, but we would have eaten a raw S'mores.
Anyway, the FREE S'mores truck is currently parked on 58th St between Broadway & 8th Ave, right next to Chase Bank. They will be parked on 58th St from 10am-12:45pm.
After that, they truck moves to 30 Rockefeller Center, where it will be from 1:30-3:30pm.
The final stop will be around Times Square, on 46th St and 7th Ave from 4-6pm.
FREE S'mores for all!