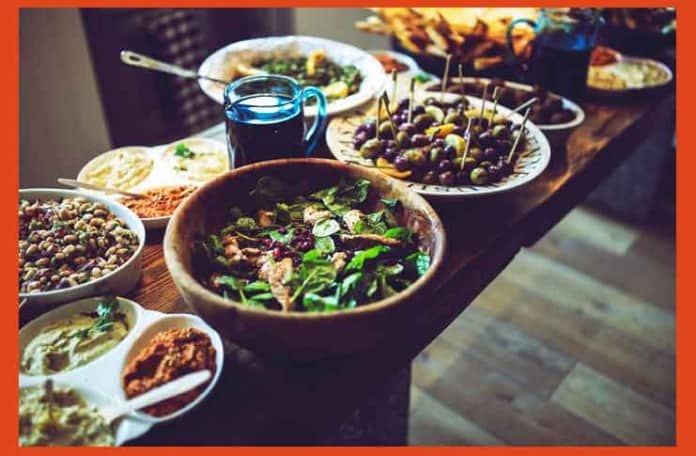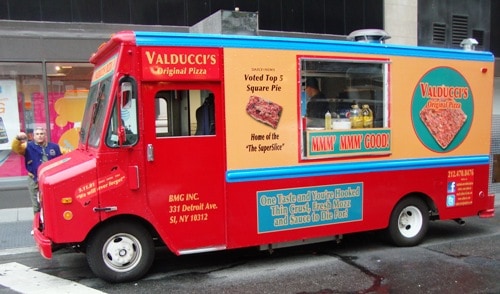 When I got out of the subway on Monday, I was surprised to see a new truck at 24th & Broadway, where Kimchi Taco Truck parks on Tuesdays.  It was called Valducci's Original Pizza, and I got to talk to the guys for a little while, and try to their pizza, although the new oven was giving Mike some agita.
The chef's name was Mike, as was the man outside the truck getting people to come over to try them out (who you can see in the picture above checking me out).  Mike & Mike are a couple of real New York guys who have been in the pizza business for over 20 years.
Chef Mike told me he had a pizzeria on Staten Island for 22 years, and also had a pizza truck around Wall St. that started up in 1999.  They served the firemen at Ground Zero for a while right after 9/11.  I'm not sure exactly what happened in the intervening years, but as of last Saturday, the Valducci's Pizza Truck has been traveling around Manhattan.
So how was the pizza?
First of all, this is not the gooey, cheesy pie you get at most New York pizzerias.  It's more of a minimalist pie, but with high-quality ingredients used. As Chef Mike described it, they only use a few ingredients, but the ingredients they use (olive oil, tomatoes, fresh mozzarella, basil) are of the highest quality.
I'm not sure why Mike cut my slice into 3 strips, but my guess is so that it would be easier to eat.  He didn't cut anyone else's slice into 3 pieces. (?)
The $3 slice is square, and the crust is crispy, similar in construction to a Sicilian slice.  Mike puts fresh mozzarella on the crust, and then puts tomato sauce, fresh basil and grated parmesan on top.
You could see they were still working out the kinks.  The pizza oven was giving Mike some problems on and off, and my slice could have used a little more fresh basil – but you could see the potential once they are running smoothly.
The pictures here don't do the pizza justice, but the secret ingredient was the tomato sauce, which was light and a little on the sweet side.  The sauce was mostly tomatoes, garlic and olive oil, with no heavy herbs and spices like oregano.  You can see why they build the pizza around the sauce.  If you're into tomato sauce that tastes like tomatoes, you should like this pizza.
They also don't do any toppings.  Mike told me they don't put on any toppings, and only give people hot pepper flakes as a condiment because they want people to just taste the sauce, cheese and crust.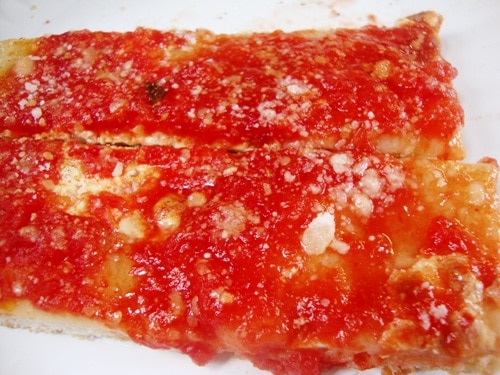 As we said, this is only our First Look.  We'll have to check back in on Valducci's in a few weeks to see how they are faring.
You can follow Valducci's Original Pizza on twitter here and their facebook is here.  You can also find them on our Mobile Munchies twitter feed, which now follows over 70 different New York Street Food vendors.