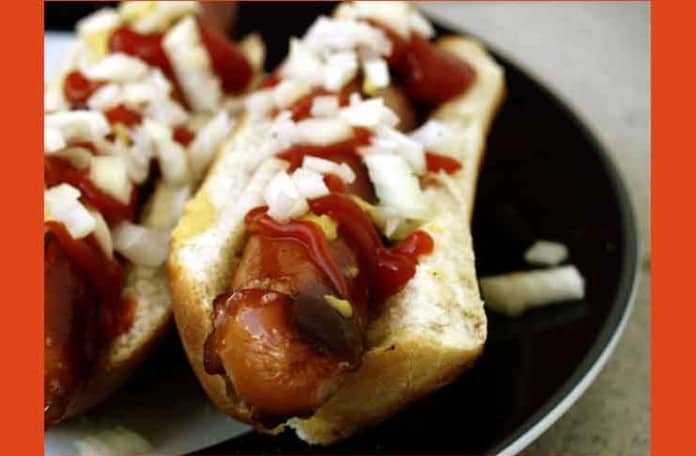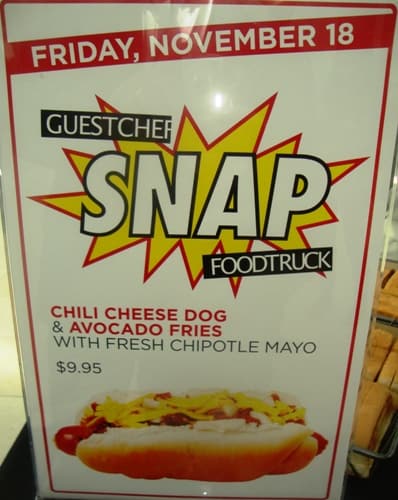 We first heard about the Snap Food Truck last summer when one of our guests on the New York Street Food Walking Tour told us her friend was opening a food truck in New York that was going to serve Chicago-style hot dogs.  I gave her my contact info and said her friend should contact me when they were ready to open.
A short time later, I was contacted by Liz, who told me that she and her husband Zeph were running into delays with the truck, but they were still going to be at some events over the summer.  Snap ended up selling their Chicago-style dogs and avocado fries the rest of the season at the Hester Street Fair, during the City of Water Day, and even came up with their own version of banh mi using bratwurst, called the brat mi.
Last week Liz told me they were going to be guest chefs at the Hearst Building, and she invited me to come by to try their food.  Most of the food trucks work private events, and some make 50% or more of their income from private events like these.
Liz told me they were serving chili cheese dogs with their popular avocado fries ($9.95).  That was an offer I couldn't refuse, so I stopped by the Hearst Building on Friday, where Snap were set up just outside the main cafeteria.  The line was about 8 people long, and I got onto the end to wait my turn.
Click through to find out how lunch was, as well as when you can expect to see the Snap Truck on the street.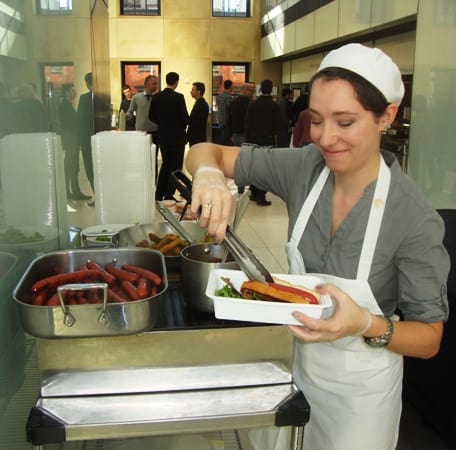 Liz put some avocado fries in the container, put a hot dog on a toasted bun, and topped it with chili, shredded cheddar cheese and chopped chives. On the side was a small container of chipotle mayo for dipping the fries.  This looked great!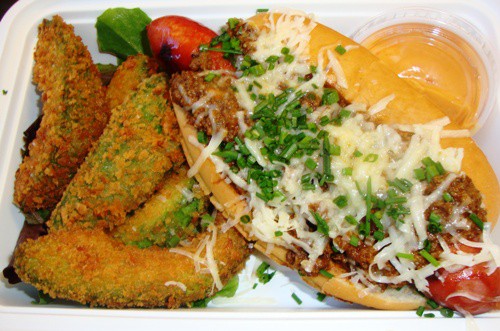 The first thing I tried was the avocado fries, since that is what I heard about over the summer.  They were panko-crusted and fried, which gave the outside some crunch – but the inside was as soft as avocado-flavored butter.  This was an interesting juxtaposition of soft and creamy and crunchy.
Avocado usually needs something to pick up the flavor a bit. In guacamole, it's normally some combination of onions, tomatoes, cilantro and lemon juice.   With avocado fries, chipotle mayo did the trick. It gave the fries some spiciness and rounded out the flavor.
Next up was the chili cheese dog on a beautifully toasted top-sliced bun.  With all the toppings, it was not easy getting my mouth around the whole thing – but I managed.
The chili was mainly meat with no beans visible, although there were probably a few mixed in.  The cumin in the chili was easy to detect, and there was a little heat, but nothing too serious.  With the chili, medium-sharp cheddar cheese and chives, the toppings were delicious on the hot dog…which brings us to the hot dog.
The hot dogs were nice and long, and had fairly strong herbs and spices, which gave them enough substance to still come through the chili and cheese.  These dogs were about 50 tastier than the "dirty water dogs" you get from just about all the hot dog carts in New York.
Liz told me the hot dogs were from Karl Ehmer, who first opened a butcher shop in New York in 1932 and is known for the quality of their product.  The hot dogs may not artisanal…but they are good old-fashioned delicious.
After lunch I asked Liz when we might see the Snap Truck on the New York streets.  She said if all goes well, they hope to have a truck on the road some time during Summer 2012.  You can follow them on twitter here.
That's good, because I really want to try one of those brat mi's.