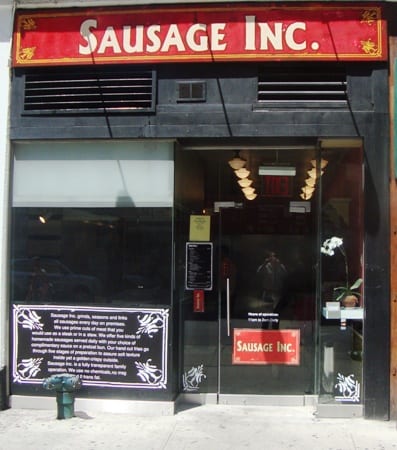 I spend a lot of time in the Union Square area, and when I'm in the mood for a nice fat, tasty sausage, a good place to go is Sausage Inc, a member of our Honorary Street Food category.  They are located at 106 University Place, between 12th & 13th St, where I stopped over the weekend.
They have 6 different types of sausages, a bunch of sauces, some sides and condiments, and seating for no more than 8-10 people, a strict requirement for our Honorary Street Food category.
The first time there we enjoyed what they suggested, a Farmer's Sausage.  This time we chose for ourselves and went for the Chipolata ($6 after tax).  I know it sounds like a new Starbucks drink, but it's actually a pork and chipotle sausage.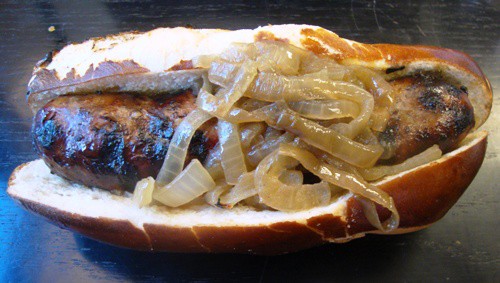 Every sausage is served on a pretzel bun (!) and comes with sauteed onions. As you enter the store, you walk past a giant griddle with sausages and onions grilling, just in case you weren't hungry enough.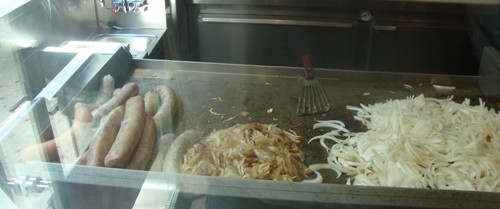 The sausage itself was big, chunky and semi-spicy.  I tried two of the condiments – Hellfire sauce and Horseradish sauce.
If you want a REALLY spicy sauce, Hellfire will do the trick.  It's habañero hot, meaning brutal!  The Horseradish sauce was actually a more appropriate sauce for the Chipolata, giving off some nasal-clearing heat, but not obliterating my tongue like the Hellfire sauce.
The pretzel bun was a nice surprise. It had a soft pretzel taste and texture, and went really well with the heavy sausage and grilled onions.  It stood up much better than a standard sausage roll, and by the end of lunch, I was pretty well filled up from just the sausage and pretzel bun.
Some of the other sausages available were Blanco (pork & basil), Veggie and Thanksgiving (turkey, stuffing and cranberry) and other sauces were a sweet chili sauce, chipotle mayo, cilantro pesto, garlic aioli and a smoked bbq sauce.
Our second visit to Sausage Inc was as good as our first. Next time we might just try the Thanksgiving sausage.  We do love cranberry sauce.