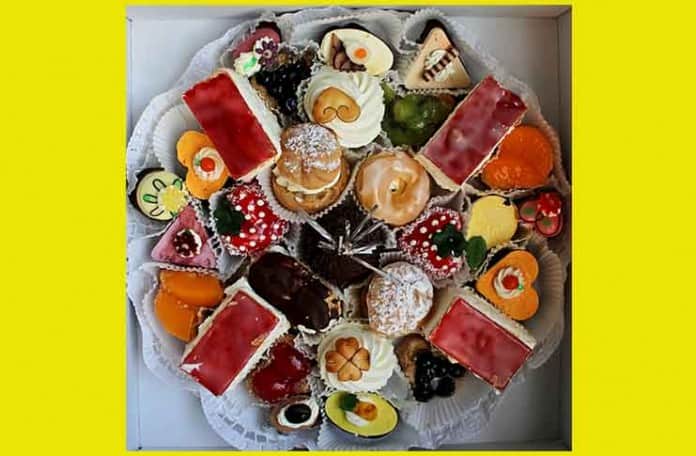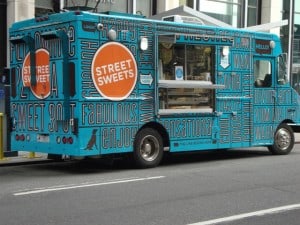 For the latest New York Street Food Featured Vendor Profile, we are happy to present Street Sweets.  Street Sweets was founded in June 2009 by Grant Di Mille and Samira Mahboubian, a married couple.  By all accounts, they are doing an amazing job, as Sweet Streets is one of the more popular food trucks in New York.  We enjoyed their quiche Lorraine for lunch last week and wrote about it here.  You can enjoy their goodies too by following Street Sweets on twitter at http://twitter.com/STREETSWEETS.  This was our interview with Grant, co-founder of Street Sweets:
NYSF: Hi Grant.  Thank you for taking the time to speak with us.  Where did you get the idea for Street Sweets, and what did you do before this?  Did you or Samira have any cooking or baking experience?
Grant: We were both in the corporate world for many years and wanted to start our own business, but it was too much money to open a brick and mortar store.  We started seeing and hearing about some mobile gourmet food trucks, and thought we could improve on the concept.  We wanted to make it clean and inviting for people to check us out, which is why we have such big windows on the truck; so people can look in and see us making their food.
NYSF: You had some difficulties with other street carts and restaurants when you started.  Can you tell us a little about that?  Is it still a problem?
Grant: During the first month, there was a turf war with a hot dog cart.  On the 4th day, we were followed back to our depot and threatened with violence.  In New York, the streets have always policed themselves to a large extent, but we were not getting involved in that.  We had reached out to some people in the police dept, and they helped.  The halal guys tried to intimidate us.  They would burn meat intentionally to deter people from stopping at our truck, but once the police come, they back off because some of them may be here illegally, or their carts may not be fully up to code.
Our viewpoint is that if you are selling something similar to what we're selling, we will try not to park there, but if you're selling hot dogs or halal street meat, we are not competing for the same customers, and we'll park there.  That said, we are testing the waters in some locations other than midtown. We feel there are enough customers for everyone, and the consumer ultimately decides what to eat, not other vendors.
NYSF: Once you got settled, a dispute arose regarding your name.  You rose to that challenge by having a truck-naming contest.  What's the status of that?  And by the way, we sent in a few entries, too.
Grant: We were sued in federal court by a company in Reading, PA who has the opposite name (NYSF note: Sweet Street Desserts) and deep pockets.  Our lawyers told us we would never win, but we thought the names were different enough, and pushed back a little.  We ended up having a contest for a new name (related article here) and 4,500 entries were received.  14 names were chosen from the 4,500, and most of the 14 were shot down by our lawyers, but we're still trying.
NYSF: We see that you did a special wedding event for Kleinfeld's.  How did that go?  Did you make the cakes in the picture (below)?  They are amazing.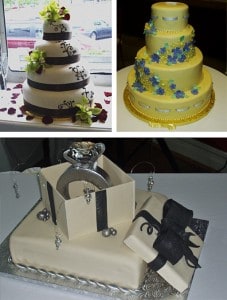 Grant: Yes, we made all these cakes.  Doing special events was always in the our plans.  It's one of the main premises in our business plan.  In October we did an event for Nike and the NBA at Basketball City for the release of the Lebron James movie.  We did a large wedding at Chelsea Piers and a bar mitzvah for the Riese family with over 350 people.  (NYSF note: Riese owns or runs many restaurants and chains around the country, such as TGIFridays, Charley O's, Lindy's and many others.)
We have done, and are currently talking with, a number of companies to do their corporate events.  We can even put their name on our truck for the event.
NYSF: How did you come up with the idea of fresh fillings for croissants and brioche?  Is that one of your more popular items, and what are some of the other more popular goodies?
Grant: As a child I spent my summers in Italy, where I remember the smell of warm croissants, which they call cornettis.  They were opened up and stuffed with the most incredible fillings.  These were our most popular items until Good Morning America did a segment on us, which featured macarellas.  A macarella is a macaroon with nutella.  This is now our most popular item, and when we have it, it flies off the shelves.  The French macarons have been really popular, too.  We've also been shipping our products all over the country, which has been good for us.
NYSF: Did you have any ideas for products that haven't worked out so well?
Grant: Not really.  Our stuff is comfort food for people, and we use all natural ingredients.  We have served thousands of people, and if we get more than 1 complaint a month, it's a lot.
NYSF: On a personal note, what are some of your favorite non-dessert foods?
Grant: I'm kind of a strange duck.  I've traveled all over the world, and am an adventurous sort of person, but not when it comes to food.  I'm a steak and potatoes kind of guy.  The other thing that's important to me is great service.  I would rather have good food and great service than great food and mediocre service.  When we go out to eat, we want to be treated well.  We're paying for the experience as much as for the food.
NYSF: Last question – Do you have any specific or general plans for the future?
Grant: This winter has been difficult with all the snow – the weather has hurt us a lot.  We want to expand into doing more catering for private and corporate events, which is not as dependent on the weather.  We've done a lot of these events, and will be doing even more in the future, although we expect to always have a truck on the streets.
NYSF: Thank you for your time, and best of luck with Street Sweets.
Grant: Thank you.