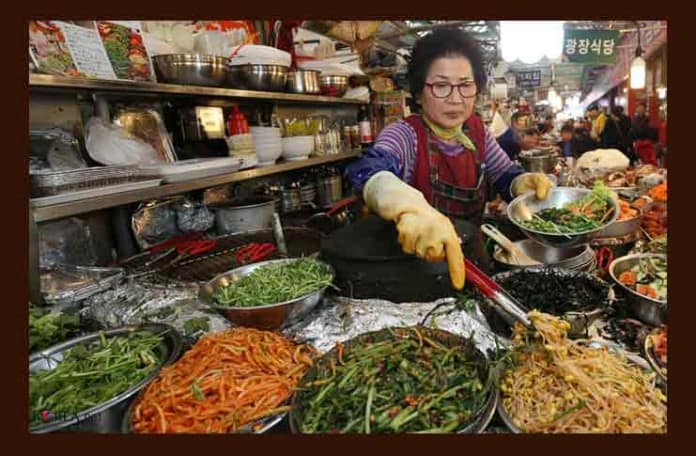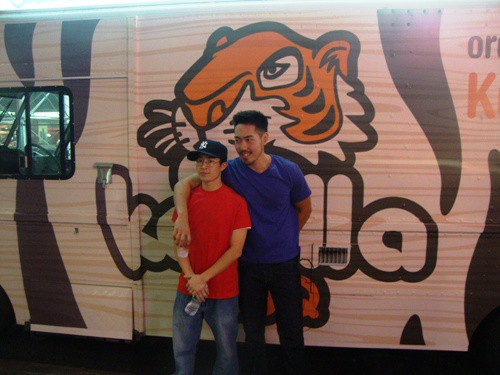 As I mentioned Monday, Eddie (right) from Korilla BBQ emailed me over the weekend about their Launch Party, which was tonight (13th) at KumGangSan on West 32nd St.  The Launch Party was to introduce Korilla BBQ as "The New Face of Korean BBQ".  There was a full (pay) bar and free Korean BBQ tacos at the restaurant.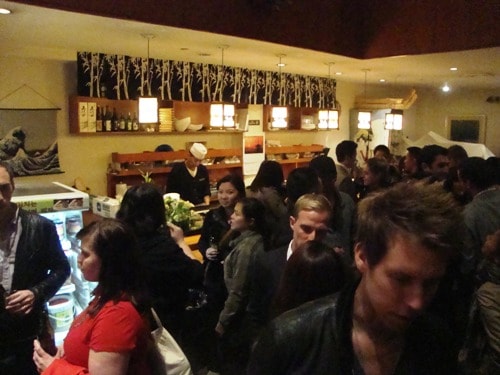 I spent a little time talking to Eddie and Andy at different times during the evening, two of the partners in Korilla BBQ.  They are born and bred New Yorkers who saw an opportunity to bring some innovative Korean cooking to the streets of New York.  Eddie credits New York Street Food with being the first website to get out the word about Korilla BBQ, and they have been good about keeping me in the loop about Korilla's plans.
I got to the restaurant a little later than expected and found out there would be 3 types of tacos served tonight – pork, chicken and beef.  Unfortunately, I missed the pork tacos, so the chicken tacos were the first up for me.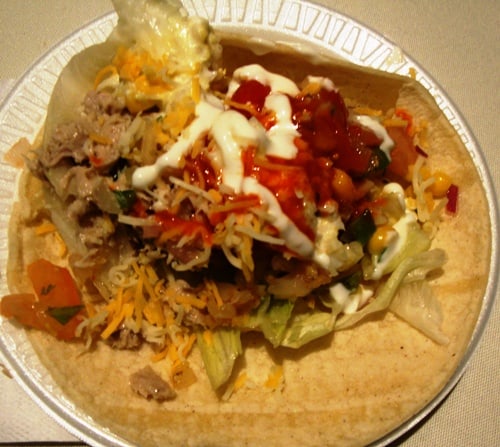 There was a lot going on in this taco, not the least of which was 2 corn tortillas.  With this much filling, it would have been a huge mistake to try using only 1 tortilla, and they didn't.  Good move guys!  Shredded marinated chicken and cheese, lettuce, tomato, pickled onions, corn kernels and 2 types of sauce – one of which was pretty spicy.  This was a big, tasty taco which took around 4 or 5 bites instead of the usual 3 or 4.  It did get a little messy towards the end, but I enjoyed every bite.  The heat level was high for a few minutes, but didn't linger too long.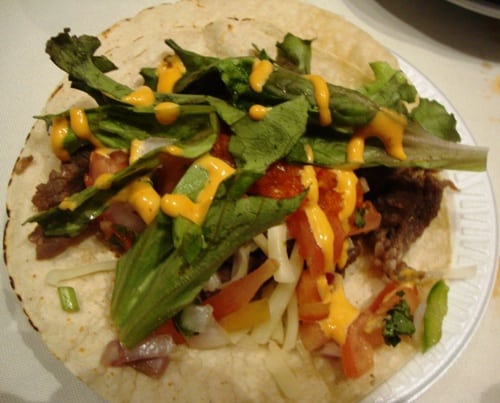 After buying a beer at the bar, some beef tacos came out of the kitchen.  The beef was thinly sliced and marinated bulgogi, and was put on the tortillas with scallions, mixed greens, tomato, red onion and shredded cheese, as well as what appeared to be an aioli sauce.  The beef wasn't as spicy as the chicken, but I thought the flavors worked better together than the chicken dish.  I enjoyed the chicken dish, but it was more of a "kitchen sink" taco.  The beef taco seemed to be more carefully thought out and put together.
I'm not sure what they will charge for these tacos, but you should only need 2 for lunch.  They will also have chompers (sliders), burritos and chosun bowls.  Their menu has some really interesting ingredients like several types of kimchi and wild mountain veggies.
I asked Eddie when they expect to be on the street.  He said possibly tomorrow (Thurs), but more likely Monday.  He knows that once they start, it will be a wild, all-encompassing ride.  Knowing how crazy midtown and downtown are, they might start in other areas first to "get their sea legs".  Eddie assured me they have the assembly line preparation down pat, and hope to avoid the long lines that have plagued some of the other new food trucks.
Good luck Korilla BBQ, although we predict that you won't need luck with food like this!