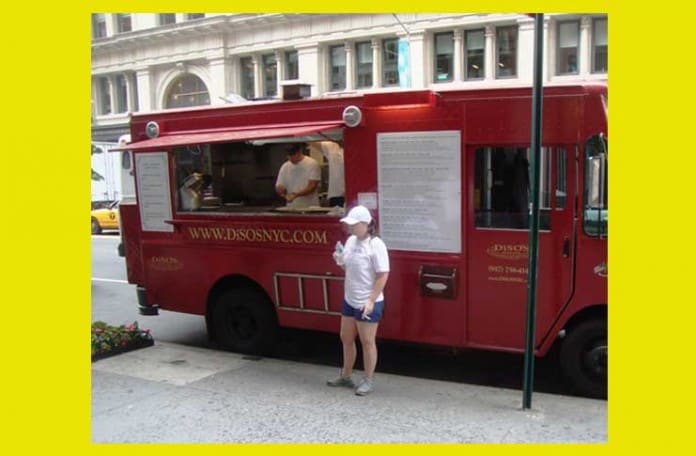 It's back to work after having a great time at the
Korilla BBQ Launch Party
last night. I think you'll like this new truck very much.  Interesting and tasty Korean tacos, sliders, burritos and chosun bowls.  They expect to be on the street next week.
As far as today, there's a storm coming, but we should be ok for lunch. No promises for dinner though – we'll have to see how it goes.  Check the pink Mobile Munchies twitter feed to be sure your favorite truck is still where you expected it to be.
joyridetruck
After a long break from midtown east, Joyride is back in the hood, dishing out our joy, one cup at a time. 52nd&Lex till 6:00pm.
schnitzeltruck Hi guys, there's a slight problem. 52nd St & 6th is blocked off. pretty sure we secured a spot on 52nd b/w 6th & 7th but closer to 7th this time. Kind of in middle of the block. So schnitz on 52nd is back:)
souvlakitruck
Loading up the souvlakimobile w/ MORE food than ever, as u Chelsea-ites wiped us out yesterday! Lunch & Dinner again, same spot. 21st & 6th.
quickstopkosher
B&H visitors are lucky! They get to shop in the most awesome store and when they get starved they have us right outside! from 8:30-6pm!
UncleGussys
Kalimera good morning Is Nyc ready for moms GEMISTA. Gemista= local fresh farm tomatoes, stuffed with chopped meat n rice served with oven lemon potatoes
MalaysiaKitchn
Check out the malaysia kitchen food truck today for lunch at 11:30 at madison and 26th st! yumminess from cafe asean
RickshawTruck
Our dumpling trucks were so sleepy this morning! But we're up! So see you today at Hanover Sq in FiDi and also in Soho at King + Houston.
StreetSweets
Good morning Hudson St (btw King & W.Houston) Street Sweets is here 4 u until 3:15p, then off 2 UBS Bank, Park & 49th St. 4 a Sweets StopOur coffee is grt, dont like it, $$ back & keep the Joe
EddiesPizzaNY
52nd and park until 3pm. Bbq chicken in the house. Then 68th and 3rd for dinner. Call ahead orders to 9174397522
waffletruck
Get your Hot Wafels @waffletruck on 46th btwn 5th&6th. "Goesting" cart on 58th btw 3rd & Lex, "Vedette" cart at Central Park Zoo (5th Ave & 60th). Juste pour vous! Free Dinges for "liking" us on Facebook. 8:00-16:24. These wafels are like real good!
PapaPerrone
We will be serving Italian sausage Hot or Sweet with P&O,Try it on our homemade garlic bread.
LCBBurgerTruck
We moved! The LCB Burger Truck is now on 47th St. between Park and Lex. Try our delicious all natural steakburgers plus NEW sandwiches!
KELVINSLUSH We will be closed for the day to take care of some things.
Hoboken/Jersey City
VeganLunchTruck
We are parked on Sinatra and first. We have many new exciting menu items, also coconut curried yam soup, and chocolate cherry donuts.