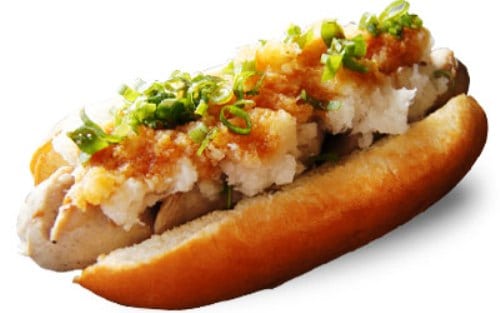 Way back in early 2010, we told you about Japadog in an article about street food during the Vancouver Olympics.  Japadog had 3 carts on the streets of Vancouver at the time (now up to 5), where they serve hot dogs with Japanese toppings.
We were especially intrigued by the Oroshi, which is a bratwurst w/special soy sauce, green onions, and grated daikon.
In March 2010, we told you they would be coming to NYC.  Well, it took nearly 2 years, but Japadog finally opened this week at 30 St. Marks Place in the East Village.  It's not a cart on the street, but they are still a good candidate for our Honorary Street Food category.
Now we can enjoy 20 different types of hot dogs with all sorts of interesting toppings.  Check out the full menu here.
How about a Terimayo, an all-beef hot dog smothered in Japanese soy mayo, thick teriyaki sauce, sauteed onions, and a generous sprinkling of nori?
We're so there!