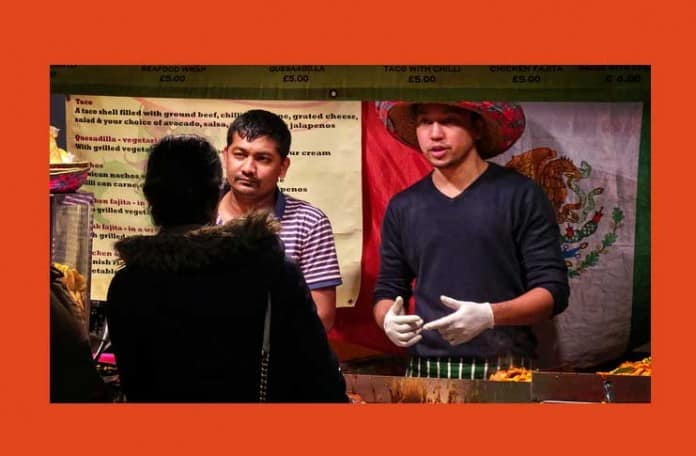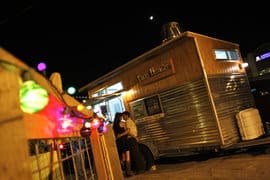 DFW.com reports that high-quality food trucks have infiltrated the Dallas/Ft Worth area – and gives details on 3 of the best.
Owner Sarah Castillo has been serving up winning tacos at this Austin-lite spot between Poag Mahone's and 7th Haven for two months. A small but welcoming deck brings truck-side dining to new levels; it's a great place to partake, pre- or post-party. And Castillo's tacos ($2.50 each: brisket, chicken, carnitas and veggie) have already won over the inebriated and the foodie folk alike. Signature add-ons like avocado and jalapeño punch up the straightforward fare. Castillo's take on the taco is standard, but the ingredients are fresh and potent, especially the salsa. My veggie scored a best-of-show with its smoky peppers, mushrooms and zucchini. And my companion enjoyed his brisket; the carnitas and chicken were a little dry, but topped with raw onions and cilantro, they were still tasty. So, too, was the Tecate, sold deck-side by 7th Haven.
Salsa Limón – Across the street from Fuzzy's Taco Shop, Berry Street, Fort Worth; www.salsalimon.com
Whoever decided to put a food truck across the street from Fuzzy's has got some cajones. (That would be Ramiro Ramirez, owner and operator of Salsa Limón, a restaurant also located in La Gran Plaza's food court.) With nary a Berry Street betwixt them, these two venues have been going taco-a-taco for more than a month. So far, business has been good, according to an employee at the truck, whom we talked to one morning when our kids got up too early, there was no coffee in the house, and breakfast tacos beckoned.
For a buck-fifty each, Salsa Limón serves authentic street tacos, brilliantly rendered. The potato, egg and cheese is the standout: big chunks of potato, pillowy eggs and Mexican-style cheese meld together atop two small corn tortillas. Speaking of which, those tortillas tasted as though they were made about a minute before we arrived. The asada taco, with steak, egg and cheese, also impresses. Small bits of diced meat are well-seasoned; it's a good "heavier" option. The showstopper may be the salsas, though. Ask for the habanero and the tomatillo, and use the former sparingly. Later in the day, stop by for a quesadilla or burrito. Both are good options, especially if the line is out the door at Fuzzy's.
Chef Point on Wheels – Across the street from Texas Health Harris Methodist Hospital, Pennsylvania Avenue, Fort Worth; www.chefpointonwheels.com
Yes, this is from the same people who brought you the killer cream-laden cuisine in the Conoco gas station in Watauga. Chef Franson Nwaeze and his wife, Paula, have garnered their fair share of PR thanks to their inspired cooking and that questionable venue. Now they've put the whole thing on wheels and can be found serving up their sinful concoctions across the street from where people go after they've had heart attacks.
This food is worth the cholesterol, and you can indulge by rationalizing that Chef Point on Wheels is only here on Wednesdays, from 11 a.m. till 2 p.m. How much damage can you possibly do to your diet? Apparently a lot. And you can kill the interior of your car, too. (More on that later.) We tried Nwaeze's most popular items, the lobster bisque ($7), Sexy Chicken ($10) and bread pudding ($7). The highlights: The fried chicken, all white meat, was delicious, crispy and delicately spiced. The lowlights: The bread pudding, drowning in a brandy butter sauce, is too one-note. And the lobster bisque? Why don't you ask the floorboards of my car, which conveniently absorbed most of it when I went to open its lid? Or you could ask my thighs. That's where the soup went, too. Literally and figuratively.
[DFW.com]