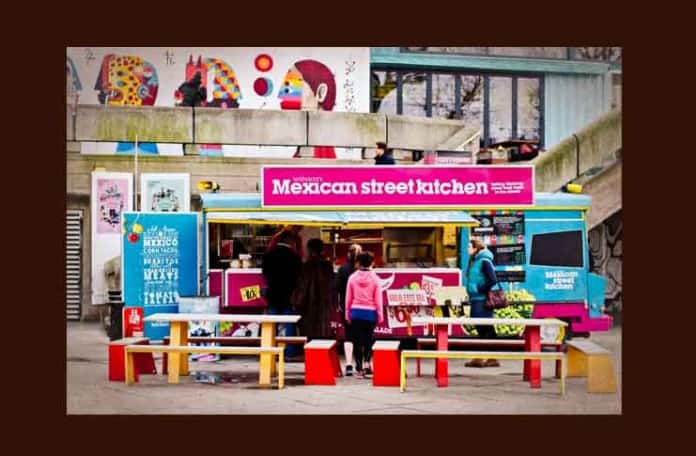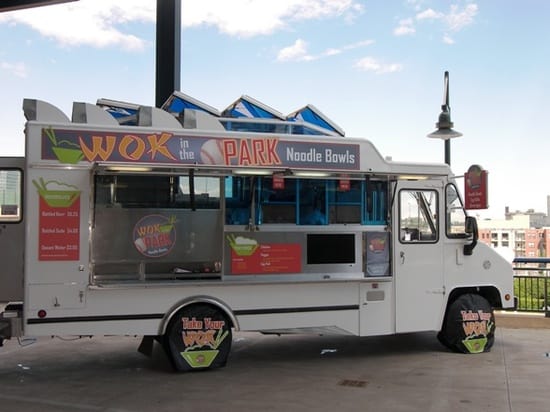 This food truck craze is getting a little out of hand!  At Denver's Coors Field, the concessionaire, Aramark Corporation, has rolled out a food truck on the first level concourse of the stadium.  What's next? Jumping food trucks over shark tanks?
From Westword: Wok in the Park, a truck serving noodle bowls and egg rolls, is the first food truck to be stationed inside a major sports venue in the country.
Although its mostly permanent position near Section 150 sort of defeats the purpose of having a a mobile food vendor, Aramark Corporation regional director Richard Hesse says the goal is to offer "something that is cool and something that is different and something that the fans will find interesting and fun."
"We have been following the market trends," he continues, "and what is more topical than the food truck craze? We have seen it hit other markets on the coasts and more recently the Denver area in a big way, and when that happened, we wanted to figure out a way to make that part of our operation."
The truck, which was shipped from Los Angeles by a company called Mobi Munch, got plenty of attention Thursday night — when the Colorado Rockies resumed play after the All-Star Break — from Rockies broadcaster George Frazier, who munched on noodle bowls and egg rolls during the third inning, in between shots of the truck and the game.
And it could start a ballpark trend. "If the calls and e-mails I've gotten today are any indication, we may be seeing more of these from my colleagues elsewhere," Hesse says.
While Wok in the Park will stay inside Coors Field for the remainder of the baseball season, Hesse says he could see it traveling around after that to other Aramark venues. And although it will have its own Twitter handle, the corporate-owned vendor most likely won't appear at events sponsored by the independently-owned trucks.
The idea for the truck came about earlier this year after Coors Field chef Craig Luckman got back from China where he worked the Asian Games for Aramark for three months.
"Working with Chinese chefs, he developed this secret recipe that he really wanted to roll out. somewhere in Coors Field," Heese says. "The Rockies are always challenging us to be creative and to have a lot of variety. And we saw that the one gap we had in our ethnic food concepts was Asian. The truck is really condusive to any concept."
All of the food is made fresh inside the truck, he adds. "This is no scoop-and-serve operation. That's the beauty of these trucks. They're fully self contained." [Westword]
We prefer something like Truckerooo, where about 20-25 food trucks are parked in a lot across from Nationals Field in Washington DC once a month.