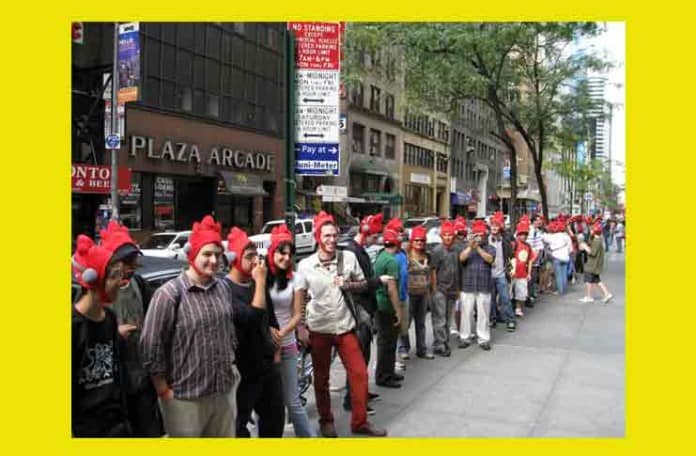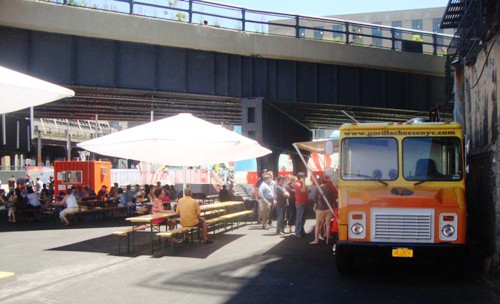 With the police cracking down on food trucks in a number of Manhattan neighborhoods, where can food trucks safely vend their wares in NYC?  How about in dedicated parking lots and at festivals.
We previously told you about parking lots in L.A. that hosted events called Din-Din-A-Go-Go's and wondered why there weren't more events like that in NYC.  Well, it looks like some people were listening.
The first high profile space was Tavern on the Green with 4 vendors daily, followed by the Lot on 30th St, which is at the north end of the High Line Park, and has a rotating selection of 2-5 vendors every day until 11pm.
As reported in the NY Times today, next up is a lot at 43-29 Crescent Street in Long Island City, Queens.  It will open in two weeks as a daily home for five trucks, and the group behind it is looking for more locations.
There are occasional food truck gatherings such as Zagat's Food Truck Frenzy, we are currently working on a possible event in the Wall St area for Sept, and we heard about another one being put together near the South St Seaport for August.  The Times article also mentioned a food-truck gathering at Midland Beach in Staten Island that may become a regular event.
There are also monthly events such as the Food Truck Rally at Grand Army Plaza in Brooklyn and the Hell's Kitchen Flea Market Bazaar.
And just across the Hudson, there is the weekly Groove on Grove in Jersey City that isn't a food truck gathering per se, but there are usually 3-5 food trucks there each week.
We are also working with the Jersey City Historic Downtown Special Improvement District on a huge food truck festival for Sept 17th. There will be 10 food trucks at this festival, 5 from NJ and 5 from NYC.  It hasn't officially been announced yet, but make sure to mark this one on your calendar.  It's gonna be awesome!
Will these new food truck parking lots and festivals replace daily lunch s?  Probably not, but it's a step in the right direction for vendors who have been under fire from the police, building owners and even halal cart operators.