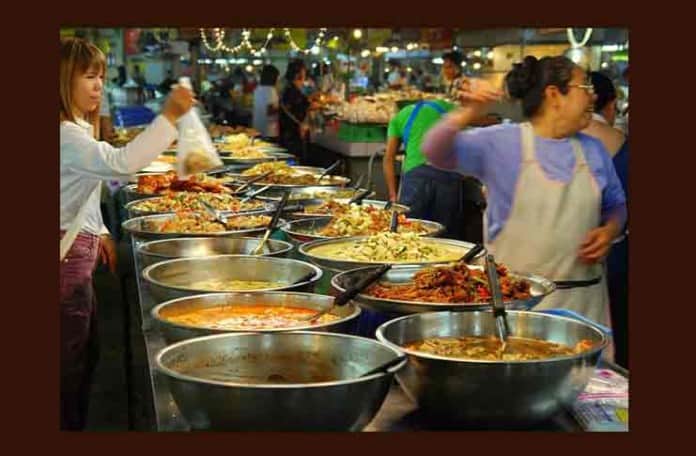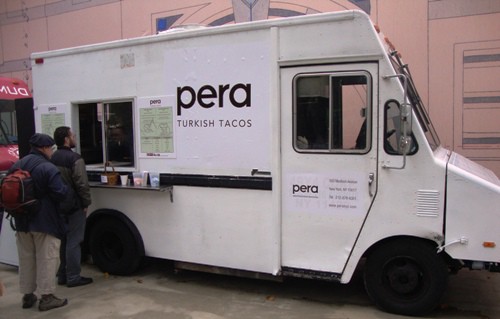 The four food trucks located on the old Tavern On The Green spot (Central Park West & 67th St) will be opening Saturday for the season.  As reported by Zagat Trucks, they will be giving away free food from 2-4pm on Saturday (4/16), and a live band will also be playing.
You probably know Van Leeuwen Artisan Ice Cream and Rickshaw Dumplings, but the other two vendors were unfamiliar to us until we tried them last year…and they were both excellent.
We tried two items from Pera Turkish Tacos last year – lavender & honey roasted chicken on lavash bread ($3.50) and smoked lamb on a zucchini pancake ($3.75).
Both were delicious, but the standout was the zucchini pancake used as a Turkish taco wrapper.  It was eggy with dill, chives and small pieces of zucchini in the batter – and that doesn't even address the bbq lamb and feta inside!
We are also really looking forward to the grilled spicy shrimp taco from Pera, which we didn't get a chance to try last year.  Full menu here.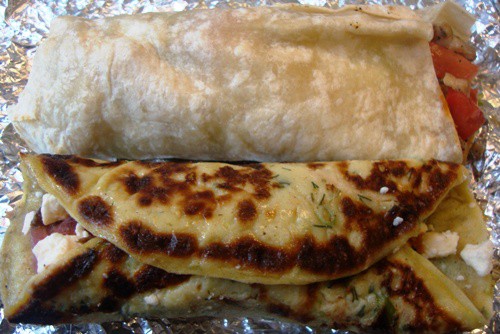 The 4th vendor, Ladle of Love, was very good too.  They serve soups, stews and sandwiches, and I had their beef bourguignon.  You could taste the red wine, beef broth and herbs like bay leaf and thyme in the sauce.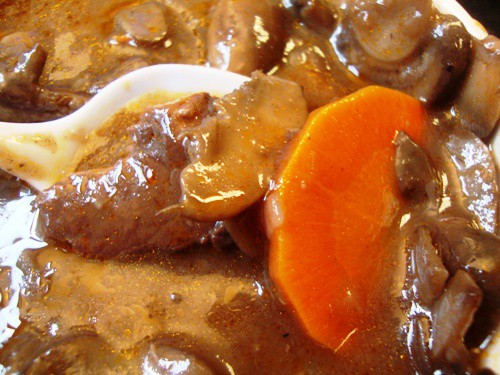 The chef also gave me tastes of two sandwiches to try: a BLT chicken sandwich on ciabatta with chipotle aioli mayo and a serrano ham and manchego cheese with watercress, also on ciabatta bread.  Both were very tasty.  Full menu here.
The Fine Print: The deal lasts from 2–4 PM, and diners can get one menu item from each truck for free.
After Saturday, the trucks will be open every day from 11 AM to dusk throughout the summer.