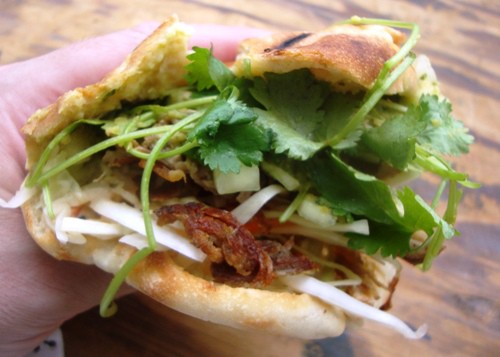 The banh mi sandwich, a staple of Vietnamese street food vendors, has been getting a makeover recently in the New York area from a couple of creative street vendors.
At the 2011 Vendy Awards last weekend, Two Pitas In A Pod, a Best of New Jersey Finalist, had a Mediterranean-inspired banh mi in a pita (above photo) that was amazing!  Braised pork with chipotle aioli, diced cucumber, pickled white cabbage, carrots, fresh cilantro and a spicy green sauce in a toasted pita bread.
I had one of these bad boys at the Vendys, and it was the spiciest dish I had all day.  Athos told me it was so popular, they were considering adding it as a permanent menu item.  It certainly has my vote.
We also heard from Snap, a new hot dog vendor we told you about once before who are bringing Chicago-style hot dogs to our fair city. Now they have come up with a brát mì, which you have 2 chances to try this weekend.
The brát mì from Snap is a flame grilled Karl Ehmer bratwurst with vietnamese ham (cha lua), roasted ground pork, house made mayo, cilantro, cucumber and picked carrots & daikon radish (do chua) on a toasted baguette.  It certainly is one of the more colorful sandwiches around, and I bet one of the more flavorful ones too.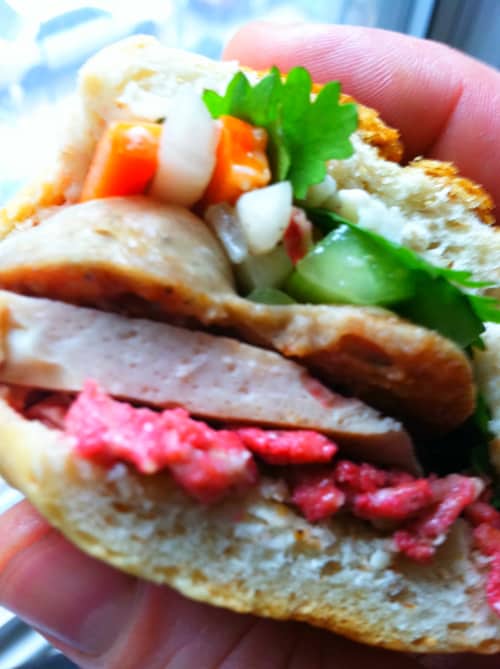 Snap has been keeping the Snap Truck under wraps until the parking situation in the city gets more settled, but they will be selling the brát mì, as well as their popular chili dog and Chicavocado dog at the Hester Street Fair on Saturday and at Artists & Fleas on Sunday.  If you try Snap this weekend, send us some feedback.
To give you some perspective, below is a photo from National Geographic of a classic banh mi vendor in Vietnam.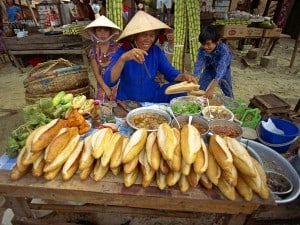 Banh mi vendor in Vietnam (photo: National Geographic)