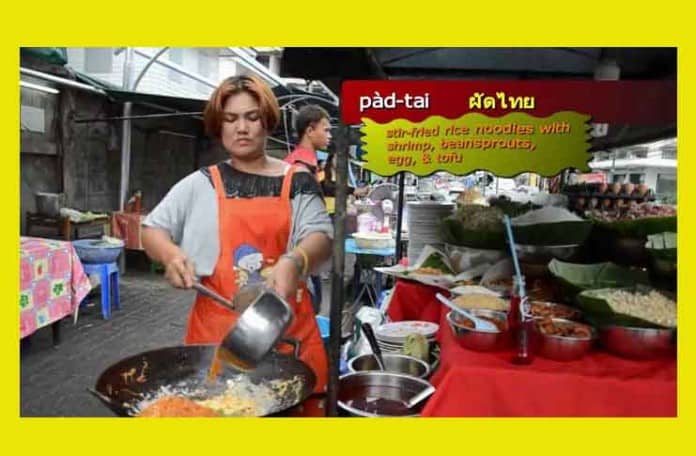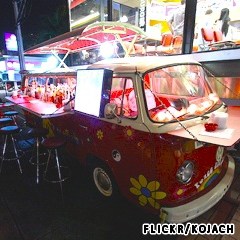 People say you can get anything you want in New York, but there are probably a few things you can get in Bangkok that are not available here.  Both New York and Bangkok are known for their nightlife, but Bangkok's is remarkably quirky.  CNN GO has 30 reasons why Bangkok has the best nightlife.  The whole article is worth reading, but there are a few of particular interest to us:
#4. VW Van Bars – VW Van bars are mobile drink platforms that open the roof, drop the windows and serve a long list of drinks. If you get rowdy and start causing a scene, no problem — they just close up shop and drive off.
#10. All night street food of every kind – Nothing beats a late night snack with friends and Bangkok has more options than you can possibly ask for. From artery-hardening egg/bacon cheeseburgers on Silom and tangy chicken shwarmas in Nana to noodles, rice and bugs of all types on every street corner, getting your snack on pre-, during, or post-party has never been easier. Just remember: for maximum alertness, eat two mid-size grasshoppers for every shot of whiskey.
#11. Cheap, neon-lit, beer fueled bowling – Up for some fun but not in the mood for the the pubs? Bangkok's neon-lit bowling alleys are top notch. Many major shopping malls have bowling venues on offer that stay open late, most featuring a glow-in-the-dark motif that pits the dimly lit hall's palette of popping neon-colored bowling balls against its ultra-violet lanes. lanes.  Major Bowl, for instance, has a clubesque theme, complete with a DJ who plays various hits on full volume, while a menu of pub grub and beer towers keeps bowlers energized.
#28. A bar that used to be a gas station – Ever in the mood to chill at a run-down Shell gas station, surrounded by old petrol pumps? Aren't we all. Try Drink 'n Dine by the Station, around the corner from Khao San Road. Yellow metal tables and foldable chairs surround the old pumps, all topped with a lit candle to give the place an oddly romantic vibe. Fear not, the candles won't create a fireball end to your night. The pumps haven't been used for an eternity. (NYSF Note: We remember going to a Mexican restaurant next to a gas station in New York in the late 1980's called Mexico next to Texaco on Seventh Ave South at Carmine Street.  Anyone else remember it?)
#30. The term "beer goggles" takes on a whole new meaning – Picking someone up when you've had a few too many is a risk in any bar in the world. Are they still going to look like a super model the morning after? Probably not. But here the worry's not so much about hooking up with a nice looking girl, as it is about hooking up with a girl at all. Some ladyboys look so good it's easy to be fooled even when you're stone-cold sober. Why does this make Bangkok's nightlife awesome, you might ask? Because everybody's got a 'friend' who has made said discovery too late in the game, which makes for classic dinner party material.