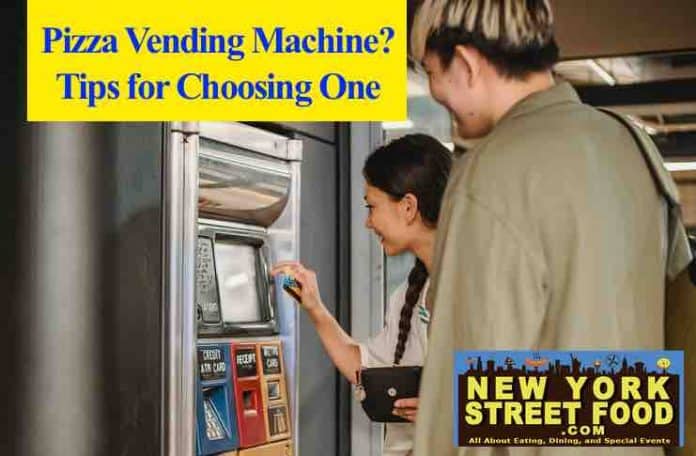 Pizza is a snack and meal that everyone enjoys all over the world. The fact that it can have a variety of toppings and cheeses makes it versatile. While you can make money setting up a shop that sells pizza, there are other ways that you can still sell pizza. Top of the list these days is getting a pizza vending machine, just like this Smart Pizza machine. 
If this is your first time hearing the term, you might be confused over what it is and how to select the best machine for your business. Well, in short – It's a vending machine that contains pizza. If you have no idea which machine will work for you, then these tips will come in handy.
5 Tips For Choosing a Pizza Vending Machine:
1. The Size of the Pizza Vending Machine
At the top of your list when choosing a pizza vending machine is the size. Various sizes in the market will hold a different number of pizzas at once. 
The most common sizes are 64 pizzas and 96 pizzas. Other features include the number of ovens they come with. It will determine how many pizzas one can get at once. 
Choose a size that will hold just enough pizzas for your clients. Don't just go for a big one without reason, because you'll have to fill it up and might end up with so many leftover pizzas. Study your customer's behavior and settle on a size that will suit you and them.
2. Portability
Once you have determined the machine's size, you need to find out how portable it is. Your pizza vending machine will have to be transported from the place of purchase to the venue where you'll select the pizzas from. 
One of the factors that will determine the portability of the machine is its size. Where possible, ask the company to transport it for you. It will save you on costs and having to go through the trouble of ensuring it's safely transported.
3. Energy Consumption
The pizza vending machine will need to be plugged into a power source at all times. One thing you need to find out is how much electricity it consumes. Knowing this will help you avoid unnecessary utility bills at the end of the month. 
The good thing with current pizza vending machines is they are made to be energy efficient. Even with this new feature, this is still information you'll need to find out from the manufacturers.
4. The Reputation of the Company
Since these vending machines have not been in the market for a long time, there is little to no information about them online. The only way to know that you have a good machine is by choosing the right company to make your machine. 
One way to know if the company you have settled for can do the job and do it well is by asking to see reviews left by previous clients. You can also check to see how long they've been in business as this goes to show that they know what they are doing. 
Avoid new companies, as this often means you are putting your trust in people with no backing. Even if the company has not worked on a pizza vending machine, it will help if they have worked on a similar machine like a drink vendor.
5. The cost
Everything will come down to cost. Before you settle on a certain figure, there are factors you will need to keep in mind. The top of the hat is the size of the vending machine. 
The vending machine's size will determine the cost; the more significant the size, the more expensive it will be. Another thing that will determine the cost is the manufacturers. 
Various manufacturers will have different prices for you. Get each quotation and try to see why it might have been quoted as it was. Compare the prices and settle for one that appeals to you. 
One thing you should remember, however, is to choose quality over saving a few bucks. It will prove to be worth your money in the long run.
Pizza vending machines are soon going to become a trend. Hopefully, these tips have helped you get on the bandwagon of getting yourself a machine. It could definitely do wonders for your business.
Want to read more of our Pizza-related posts? Check out our article about tips for pairing wine with pizza, things to consider when choosing a pizza oven, or the benefits of using pizza bags when delivering your dish.