Restaurants are a great place to spend time with either friends, family, or maybe even a date. However, many of them offer a similar experience if we turn a blind eye towards the quality of food offered. Sure, most people usually look for a relaxing dining experience but if you're feeling adventurous, themed restaurants are a good way to have fun.
Themed restaurants comply with the strictest food safety standards. These restaurants carefully planned the aesthetic and functional design of their establishment with the help of expert consultants such as Hospitality HQ and similar creative hospitality consulting and management companies.
And what better city to explore themed restaurants than in NYC. The big apple is filled with a lot of fancy restaurants, and every one of these theme restaurants in New York offers a unique experience. Without any further ado, let's have a look at what this city has to offer.
Before we move on, we'd like to quickly acknowledge that stores in NYC can get expensive. That's why using a deal-site like Coupon Lawn is a great way to find deals you would usually miss for retail stores and much more.
The Cauldron
If you are the type of person that loves fantasy novels or stories about magic and sorcery, this is the place for you. The Cauldron is often called the most magical bar in New York, and that definitely holds up when you visit the place for yourself.
Wizardry comes to life here, and your average drink becomes much more exciting when the bartender lights it on fire. Everything from the decor to the atmosphere is something you'd see in a Hollywood film like Harry Potter. It's an immersive experience, as the staff is very committed to the idea of magic and sorcery. You even get a Wizard's robe to look the part.
Ellen's Stardust Diner
Ellen's Stardust Diner is probably one of the most popular theme restaurants in New York. It's also completely one of a kind. Have you ever been to a restaurant where the staff sings to you and throws confetti in the air? Probably not.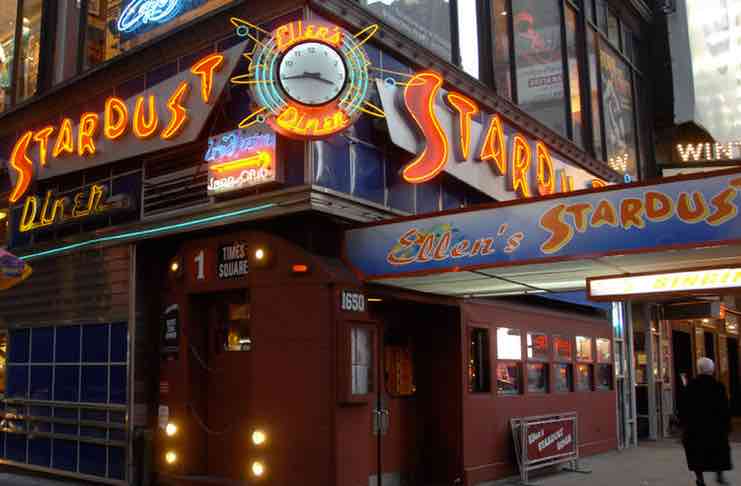 Appropriately, the diner is situated on Broadway, and a lot of the staff actually has amazing singing talent. Just the sort of thing you'd expect when visiting Broadway. The food is great too, but it's more about the entertainment factor. The line can go around the whole block at times. They are also known for their great desserts.
Beetle House
Tim Burton is known for his gothic and whimsical aesthetic in movies. Edward Scissorhands and Beetlejuice are his most popular movies, and the Beetle House is dedicated to replicating that experience. Think of all of Tim Burton's work molded together, and Beetle House is the result.
The lighting and decor are absolutely phenomenal. The staff and waiter walk around in costumes you'd recognize from the movies. Whoever owns this restaurant are obviously huge fans of Tim Burton, and their work clearly shows that. Even the drinks and food have unique twists to them.
Beatstro
New York has a lot of influence in film and television, but something people easily forget is how much NYC has contributed to hip hop. Beatstro is located in the Bronx, and the restaurant celebrates New York hip hop history. They have live beatboxers, graffiti artists, DJs, and much more. 
Watch this to see more:
The food is very diverse and ranges from Afro and Latin to Caribbean culture. Their meals represent the love and history of hip hop as well. Overall, a great place to visit if you love good music and great food. 
Hard Rock Cafe
Hard Rock Cafe is one of the more popular tourist attractions in the city of New York. The Hard Rock Cafe is actually a chain of restaurants, and their restaurants can be found in a lot of cities. They first started out by hanging Rock & Roll memorabilia on the wall. Now, they even have artists at times playing music.
Their food is mostly fried and heavy and has that spicy feel to it. It goes very well with the atmosphere for the place. A must-go-to spot if you are visiting New York.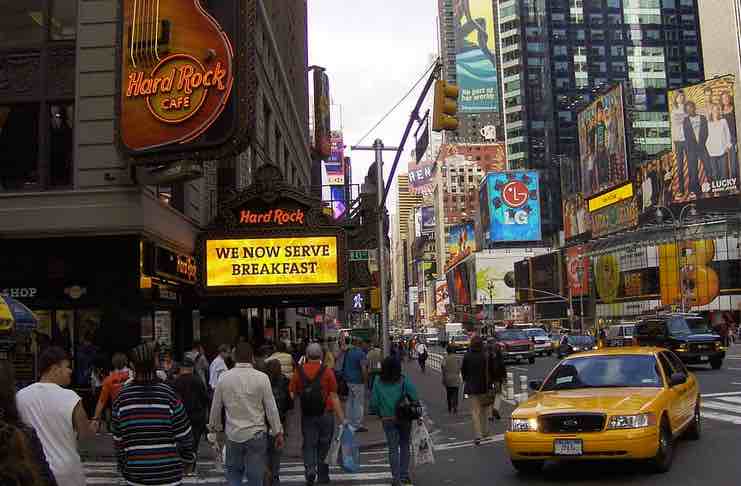 Koneko
Koneko is an upbeat cafe that has incredible espresso coffee, Japanese snacks, pastries, and more amazing food. It is a very relaxing place to visit, but that's not all. Koneko is one of the very few "Cat Cafes" in the city. They have a lot of cats roaming around the restaurant, and you can play with them. Some of them are even up for adoption. A very unique place for cat lovers.
Nutella Cafe
Since I LOVE chocolate, this is definitely one of my favorite theme restaurants In New York. This place is exactly what it sounds like. While it's not as unique as others on this list, it is still a great spot to visit for chocolate and Nutella lovers. They serve crepes, pancakes, waffles, pastries, and much more all along with that Nutella deliciousness. The Nutella Coffee is also unique and a must-try. The interior is quite lavish as well.
Watch this to get a glimpse:
Medieval Times Dinner And Tournament
I'm willing to put money on the fact that you never thought the words dinner and tournament would go together. This dinner/theatre takes you all the way back to the middle ages. The customers are seated around a ring. Inside the ring, jousting and sword fighting games take place.
Of course, this is all staged. Still, this is not something you get to experience every day. That's why the level of dedication seen here has to be applauded. This place definitely deserves its spot on our list of incredible theme restaurants in New york.
The Sugar Factory
The name itself is quite self-explanatory. Super-sweet desserts and drinks are this restaurant's specialty. They also offer candies that can be bought over the counter, and you can even take them home in goodie bags! They also offer cheeseburgers that have bright and colorful buns. A very unique take on a simple burger.
Jekyll And Hyde Club
The gothic novel about Jekyll and Hyde is quite popular in the West. So, it shouldn't be much of a surprise to see that the theme has been used for a restaurant. This place has everything covered to play into the theme. The staff is completely in character as they are wearing costumes, and the spooky decor adds to the haunting feel.
It is definitely a bizarre experience, but something that is worth seeing yourself.
Looking for some more in-depth reviews of restaurants in NYC? You'll find more here.