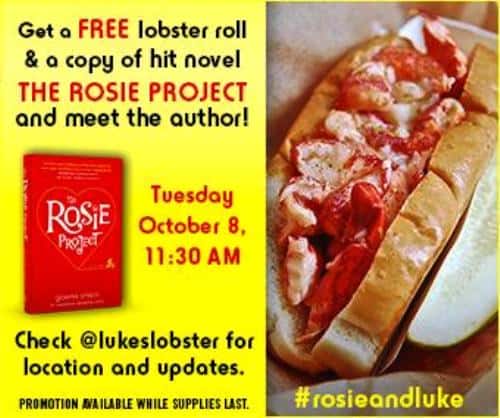 The new novel, The Rosie Project, is on stands now, but you can get a free copy – and a free lobster roll – today!
Simon & Schuster is giving away lobster rolls because every Tuesday, Don Tillman, The Rosie Project's narrator, makes lobster. In celebration of this charming (and totally understandable) quirk, Simon & Schuster is giving away books and lobster rolls to the first 100 people who line up!
Click through to find out when and where you can score this great giveaway!
Luke's Lobster Nauti Mobile
Tuesday, October 8th – 11:30AM – 1:00PM
Corner of 46th Street and Vanderbilt Ave
The exact location may change during the day, so be sure to follow @LukesLobster on twitter, or on our Mobile Munchies twitter feed. to find out the exact location.