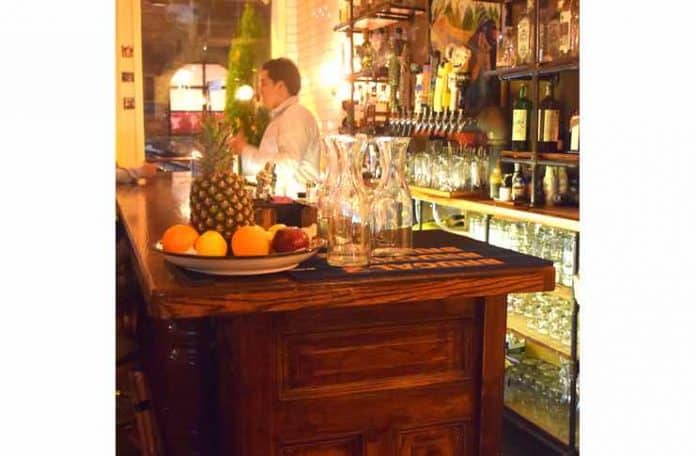 By Kate E. O'Hara
A few weeks ago on a damp and rainy night in Williamsburg, Joanne and I stopped into de Mole for a tasting. Prior to our visit, our day had its share of mishaps and now our rain-soaked clothes added to our less than pleasant frame of mind. But, once we walked through the door at 2 Hope Street, Brooklyn, our day and our gloomy moods took a complete turnaround…
The ambiance of de Mole is one of warmth and welcome. It's cozy, with a youthful relaxed vibe. Even the physical surroundings exuded warmth; hues of deep wood-grains and a tin ceiling with lighting from pendants made from Oaxacan black clay. The openings in the clay globes speckling like stardust over the tables and bar—both of which were handmade by the owner Chef/Co-Owner Jose Luis Flores and his son General Manager Daniel Flores. The craftsmanship continued with a copper pipe-lined bench that ran the length of the far wall. The entire setting was beautiful and radiated the love that went into making it so.
We began our tasting with two drinks prepared with the expertise of the bartender, Felix. I had El Anticuado, a Montelobos mescal old fashion with Hornitos Reposado, charred orange, angostura and orange bitters. Wow, a tang of orange with a smoky finish! Joanne had a margarita made with tequila that is kept chilled on draft – tequila on tap–isn't that nice?
Our first dishes at De Mole were "aperitivos":
Ceviche de Veracruz, sea scallops poached in fresh lime with onion, tomato, a touch of jalapeño, avocado, cucumber, olive oil and cilantro. The combination of tastes burst with an aromatic freshness.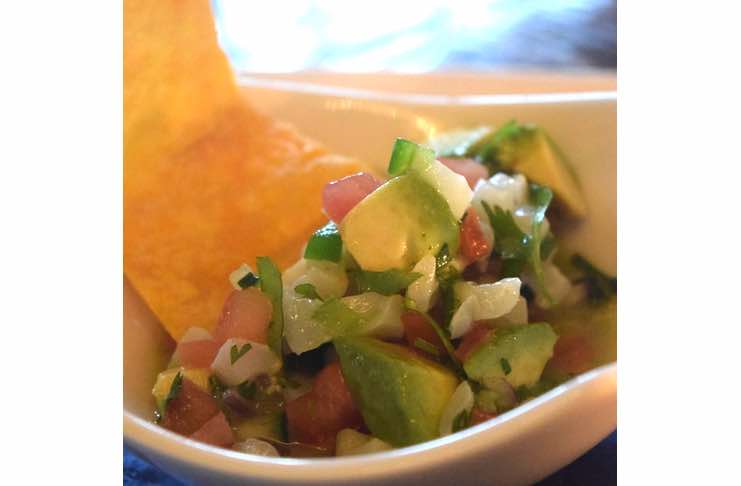 Cocktail de Camarones, shrimp cocktail in a bold tomato-and-citrus sauce, onion, cilantro, and avocado. It is said that this classic Mexican dish strikes a balance of sweet and tart, and this certainly did. The flavor was outstanding. Joanne didn't get to try too much because I was busy eating it all. "I could literally lick this bowl." As I attempted to get the final remains of the delectable content with my fork, I then asked, "Do you think it's rude to drink the rest of this?"
This was followed by Chicken Taquitos, which are Daniel's grandmother's recipe. They are pan-fried and served with lettuce, queso Blanco and sour cream. They were also served with two sauces: one chili-based, the other avocado-based, and both a perfect accompaniment to the light crisp rolled packages of scrumptiousness we received
Next up, Kale "Caesar" Salad. What a delightful surprise! Baby kale, perfectly dressed and tossed with green apple, cranberries, parmesan cheese, and cornbread croutons. Yes, cornbread croutons: a brilliant and delicious addition.
Before I tell you about our "platos principales" I want to note that many of the plates our food was served on were the exquisite design of the artist Javier Servin. And, our plates were served and cleared by Uriel who wore a smile and shared his knowledge of food and the de Mole family traditions. He added to the enjoyable experience.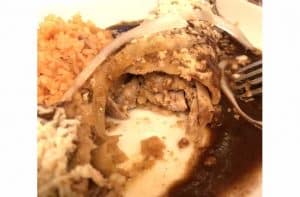 With glasses of sangria in hand, we were now ready for Enchiladas de Pollo con Mole Poblano, shredded chicken in a corn tortilla with Mole Poblano Sauce, rice, beans, onion, and queso blanco. The chicken was tender and fragrant, with a touch of sweetness that almost melted in your mouth. The rice was tasty with a light consistency. I could actually envision tasting each individual grain (is that even possible?!). The rice was served alongside black beans that were rich and creamy. The onion and queso blanco were an ideal enhancement but the overall star was the Mole Poblano Sauce. The recipe has been passed down from generation to generation. Daniel explained that it takes three days to make, and consists of 26 different ingredients. Now that's a labor of love!
Our final taste was a specialty of Chef Jose Luis Flores: Coconut Flan. It was sweet and delicate and the shaved coconut tipped it over into the decadent category. For those of you who wish to add some sugared decadence to your baking routine, be sure to get the cookbook, Dulce: Desserts in the Latin American Tradition, written by none other than Chef Flores himself.
The only good thing about our evening at de Mole coming to an end was learning that de Mole is open every day from 11:00 AM to 11:00 PM. And I for one, will absolutely positively be coming back to give their breakfast and brunch menu items a try. Oh, and before I forget to tell you… I did it. I drank the last of the Cocktail de Camarones.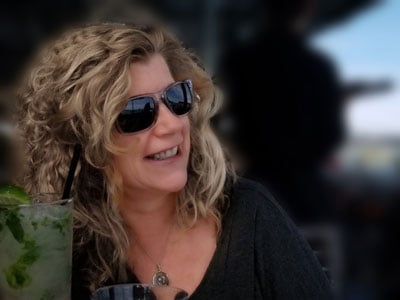 Kate E. O'Hara is a New York based freelance writer and photographer who loves all things food—especially the people who make it and market it. Her writing aims to capture the essence of the food experience; the stories that go well beyond a plate of ingredients. In addition to her love of food, Kate is also known to have a hankering for red wine and craft beer. You can also find Kate on Instagram @foodpeoplepossibilities