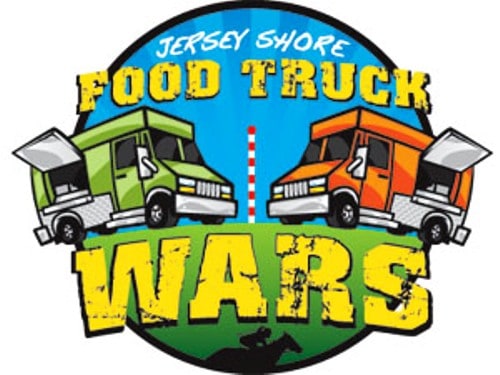 The Morris Grilled Cheese Truck crossed the Hudson over the holiday weekend to take part in the 2nd annual Jersey Shore Food Truck Wars – and theycame back victorious!
The winning sandwich, dubbed Delicate Steve after the Brooklyn Band, was made of truffle cheese, fresh provolone and house caramelized shallots on organic sourdough.
The People's Choice Award was won by a new truck serving bacon on a stick at only their 2nd event. Pretty impressive!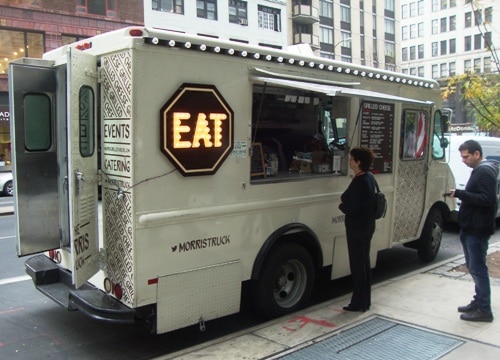 Bacon on Wheels, winner of the People's Choice Award, went through 400 pounds of bacon, enough for 600 bacon-on-sticks, at the 2 day event held a Monmouth Park.
Gozen Yogurt won the Most Seductive Sweet award for its salted caramel and banana yogurt.
The Cow and the Curd took Guiltiest Pleasure honors for its fried cheese curds.
The Philadelphia-based truck just launched in January; co-owner Rob Mitchell sees fairs and festivals in the near future.
Hoboken-based Amanda Bananas won the Cutting Edge Cuisine award for its "banana creme pie" – soft serve frozen banana topped with crushed graham crackers, whipped cream and Nutella.
Pizza Vita won Ethnic Excellence honors for its Breakfast Pizza – mozzarella, crushed tomato, basil, egg, sopresata and truffle oil.
Fork in the Road won Best on a Bun for its braised short rib sandwich with mushrooms, goat cheese and onions.
Other contestants included: Aroy-D Thai Elephant Truck (grilled shrimp and curry puffs); The Empanada Guy (lobster empanadas); Ahh! La Cart (Southwestern chicken cheesesteak slider); Hibachi Heaven (hibachi shrimp with Yum Yum sauce); Max's Hot Dogs (cheese-filled Jersey Shore dog); and Red Hook Lobster Pound (Maine lobster roll with homemade mayo), who won the event last year.