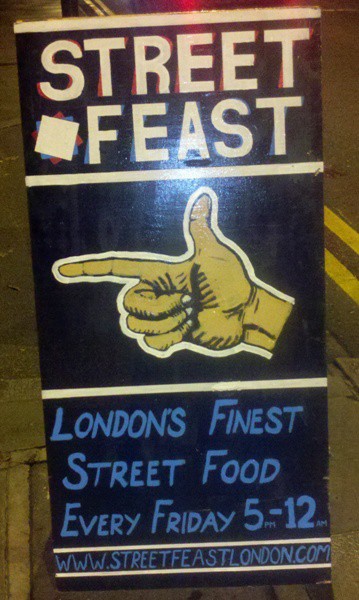 We had to spend a few days in London last week, but were working in the outskirts, and were not able to have a bite of the London street food for lunch. However, on Friday night we went to Street Feast London in Hackney, an easy 13 minute train ride from Liverpool St station. Street Feast London takes place every Friday evening from 5pm to midnight.
Before going, we got in touch with Dominic, one of the organizers of Street Feast London. He said to ask for him at the bar when we arrived, to have a drink together and chat.
While the train ride was easy, it was difficult finding the location, a 10 minute walk from the station. After finally finding the spot, we asked for Dominic. He came over, offered a drink, and we both had a tall Red Stripe, the Jamaican beer.
Dominic told me they were in a different outdoor location until a few weeks ago, and they moved to this new indoor location for the winter. Street food vendors in London Street Food scene seem to have a lot of the same problems as in the States. Local businesses see them as a threat, and do what they can to shut them down.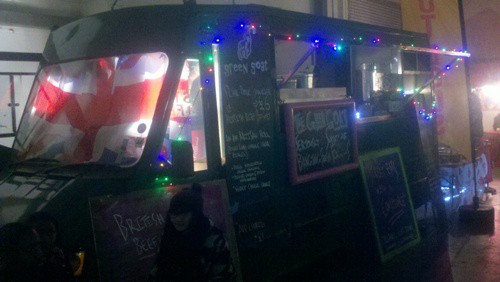 Street Feast London was previously in a large outdoor parking lot they rented from the owner. The owner eventually wanted to build on the lot, and was renting it out for now.
Even though all the Street Feast London  permits were in order, Dominic told me the local council told the property owner he would not get the necessary permits to build if he rented to Street Feast London. Pressure was obviously exerted on the council by local business owners.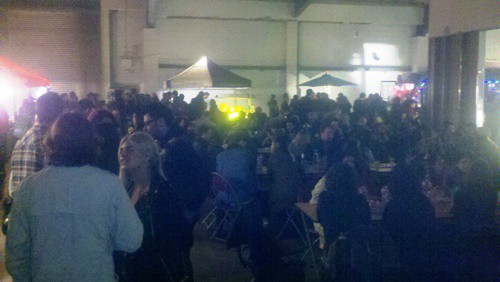 Nevertheless, street food in the UK is getting very popular, and Street Feast London is now located in an empty  warehouse in Hackney. It is similar to the markets here like Smorgasburg, albeit smaller, with 18 vendors at this weeks's event, a bar, table reservations for a small fee, and about 5 merchandise vendors who had books, records, and clothing.
We tried to sample vendors with different things than we can get at home, although we had to try Big Apple Hot Dogs to see how they compare. If they're using our city's nickname in their name, they are subject to review.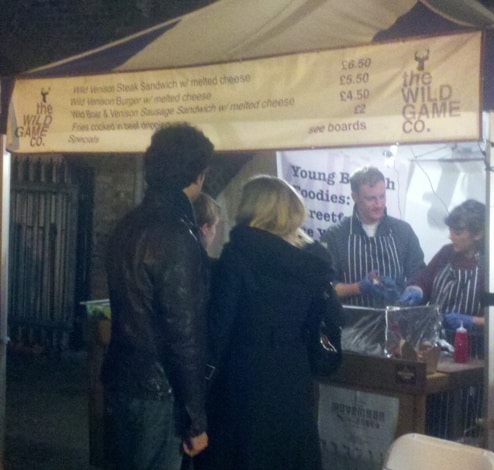 There was also Wild Game Co (venison & boar) , Luardos and Buen Provecho (both Mexican), Kimchi Cult (kimchi burgers), Yum Bun (Chinese buns), Bhangra Burgers (Indian burgers and sandwiches) and a few more. There were dessert vendors too, and a coffee & tea stand as well.
While most of the vendors had stands, two of them, Luardos and the Green Goat had food trucks.
We ended up trying 3 savory vendors, and of course had to have dessert. Check back throughout the week, when we will be posting reviews of each place we tried.
First up, octopus coconut curry from Vinn Goute, Seychelles-inspired street food. Check back this afternoon for the goods.