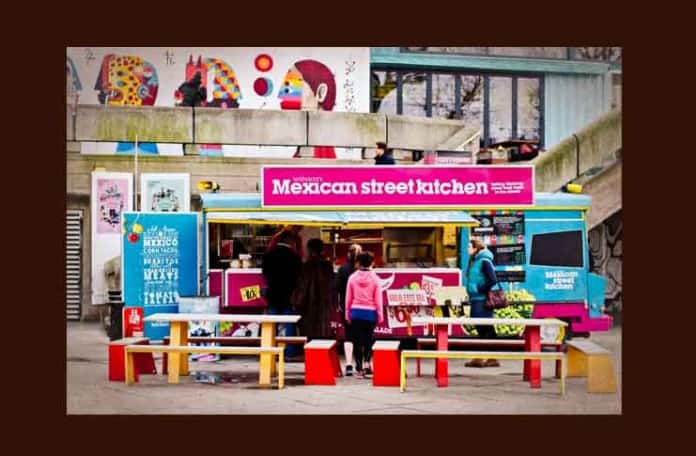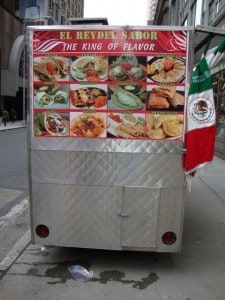 Today's Lunch is a chorizo burrito from El Rey Del Sabor (The King Of Flavor) on the NW corner of West 49th St, just west of Broadway. (UPDATE: This cart has moved to 49th St & Park Ave.)  They have 2 other food carts in the city, one at 43rd St and 6th Ave and one at 60th St and 3rd Ave.  I was told the same food is served at every cart, which is a wonderful thing, because this was an excellent burrito.
I watched as they assembled it on top of the tortilla on the grill.  Healthy portions of rice, chorizo and lettuce, topped with some red onion and cilantro, and generous doses of  sour cream, pico de gallo and (at my request) hot sauce.  Mmm good!  These guys know how to do hot sauce (and burritos).
It was as good to eat as it looked when they were putting it together.  Eating some burritos is like traveling through the grocery store.  First you bite the lettuce, then the sour cream, then the rice, then the meat.  This burrito was not like that.  It all blended together very nicely.  And while it was a LARGE burrito, I wasn't stuffed afterwards.  Full yes, but not stuffed.
Everything on their menu looked so good, I'm not sure what to try next.  It might be a couple of tacos, a torta, or a quesadilla, but I'm leaning towards the enchiladas, since you get 3 of them.  This way I can try 3 different fillings.
All-in-all, Today's Lunch was very good.  The burrito was $7, about average for a large, filling lunch in midtown, and I tipped the guys $1.  For the vegetarians out there, several of their dishes can be made without meat, and they charge $1 less for the vegie versions.