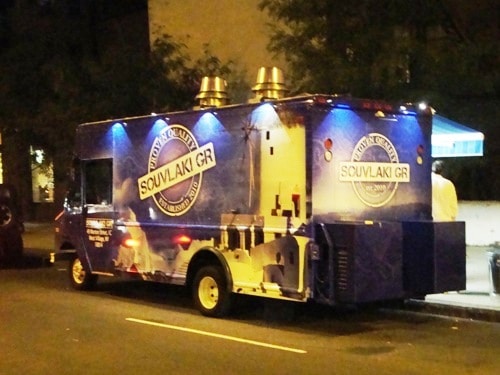 It's another beautiful day to enjoy some great New York Street Food from the vendors on the right and the trucks below.
Souvlaki GR, the 2010 Rookie of the Year Vendy Award Winner will be serving lunch and dinner in Chelsea, as soon as they can find parking around 21st & 6th.  Chef Samir is also back on 56th & Lex.
With some much still in flux, make sure you check the pink Mobile Munchies twitter feed on our homepage before heading out, in case anyone had to move at the last minute, or has not checked in yet.
nyccravings
Ready by 11:30am on Water b/w Broad & Coenties Slip. Hope this is a legit spot.
»
RickshawTruck
Humpday! At Chelsea: 26th bet 11av + 12av + at Columbus Circle but NEW location: west side of 8av bet 56 + 57. spread the word humming bird
»
MalaysiaKitchn
Slight location change! The food truck is parked on 23rd st between 5th and 6th on the south side of the street. See you soon!
»
CupcakeStop
CupcakeStopCupcakeStop trucks in Park Slope Brooklyn on 7th Ave and 6th Street and in NYC on 58th and 8th! Food Network Food Feuds Contest Begins 2day! Menu: Red Velvet,Funfetti,Vanilla Chocolate,Oreo Crumb,Boston Cream,Coconut Cream,Peanut Butter Cup,Triple Choc and Vanilla Strawberry!
»
waffletruck
Its Wafel Wednesday. Get a hot wafel down town @ Hanover Sq. Btwn Water and Pearl. 8:00am-4:28pm. You best joke = 1 free Dinges. Awesome! "Goesting" cart @ Greenwich and Murray today, bringing nice crisp waffle weather with us. "Vedette" cart @ Central Park Zoo (5th Ave & 60th). Wafels & Dinges booth @ Mad Sq Pk (24th St. and 5th) now open until 8pm.
»
schnitzeltruck
Hey there Park ave b/w 26th & 27th? You ready for schnitz? Got some veal Schnitz in limited quantities. If u want sum, come early. 11:30-2
»
joyridetruck
As always, buy a bag of @
stumptowncoffee
& your cup of Joe is on us. We're on Hudson between King and Charlton today till 6:00pm.
»
Chefsamirtruck
Hungry? Chef Samir is waiting for YOU!!! 56th St. @ Lex
»
LCBBurgerTruck
We moved! The LCB Burger Truck is now on 47th S. betw. Park and Lex. Try our delicious all natural steakburgers & delicious NEW sandwiches!
»
quickstopkosher
Servicing in front of B&H from 8:30 until 6 pm!! Call for FREE delivery with NO minimum order in the B&H area! Come and give yourselfs some joy with our delicious falafels and sandwiches, paninis and more! 2126746666 and njoy!!! Quicky
»
souvlakitruck
Happy Hump Day. We're serving lunch AND dinner today from 11:00 am – 9:00pm, in Chelsea. When Big Blue pulls up, I'll tweet official spot.
»
UncleGussys
Goodmorning, stopped at the bakery today and the bread was STEAMING !!! The best
»
fritesnmeats
Lunch today @ water&broad, fidi. Killa soup today! Burger of the week elcubano! Preorder 19172929226..
StreetSweets Good morning Midtowners, Street Sweets will be on 52nd St & Lexington Av from 8a until 3:15p, we missed you last week & can't wait to see u. JP Morgan Chase (47th & Vanderbilt Av) today & UBS (49th & Park) tomorrow will b having a "sweet time" courtesy of your RR Donnelley friends.
»
steaktruck
tell us which day you want us at 24 st, let us know whre u want us to stop by ur ofice.
»
PapaPerrone
We will have Eggplant Parm Wednesday, try it on our homemade garlic bread.