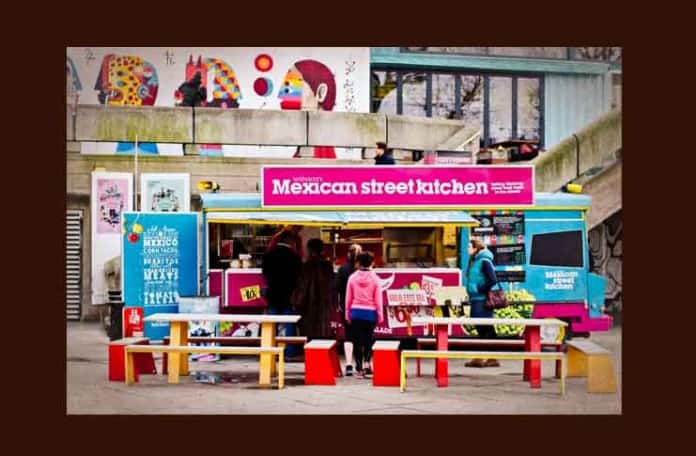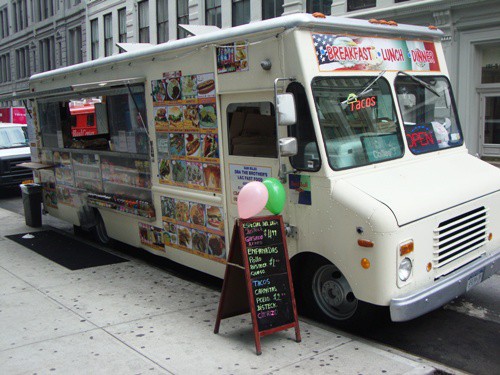 I've been meaning to try the Brothers Express truck again on the SW corner of 6th Ave and 18th St.  The first time I tried Brothers Express, their tacos were an enjoyable lunch and a good value. Today seemed like a good day to try them again.
Approaching the truck, the sign said their Daily Specials were bisteck guisado (beef stew), empanadas and tacos.  Today's Lunch is bisteck guisado ($5), but when they were putting it together, I noticed a rack of empanadas on one side of the truck, and asked if they were homemade. They said yes, so I asked them to add a cheese empanada to the order ($1).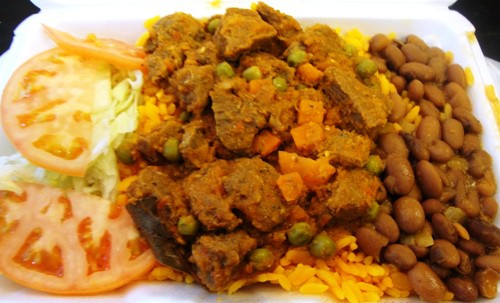 The beef stew was exactly what you would expect – lots of beef chunks that were really soft with carrots and peas.  The sauce was more of a light tomato-based sauce rather than a beef stock-type sauce.  It was a little sweeter and pretty tasty.  There was a bay leaf and other herbs apparent in the stew.  It was a little early in the season for this kind of lunch, but would be perfect for a cold winter day.
The stew was served over white or yellow rice, and you can see I got yellow rice.  It was moist and fresh, although the white rice would probably be a better fit with the beef stew.  The side dish of beans was nice too.  It was prepared very simply, but was done well.  Can't say I ate the salad though.  It looked ok, but I still had the empanada to try.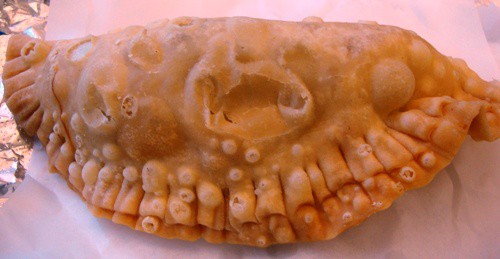 The empanada was obviously homemade – it had nothing in common with the mass-produced empanadas you see on some food trucks and carts.  The crust was light and flaky, but when I bit into it, I got chicken instead of cheese :(.  Not the worst problem in the world, but I did want to try the empanada de queso.  Maybe I should have ordered in Spanish.
The empanada filling was decent, with chunks of chicken, but was a little boring.  Luckily, they put some fresh green hot sauce in the package, which picked up the empanada with just the right amount of heat.  The empanada was good, but needed a little pick-me-up to make it really good.
Today's Lunch was an 8 out of 10.  The beef stew was tasty, filling and a good value.  The empanada crust was really good, and the chicken filling was better after putting on some green hot sauce.
Brothers Express is a good, solid place to get lunch, and the beef stew can help get you through the coming New York winter.  While it's still fall, the empanadas and tacos are definitely recommended.