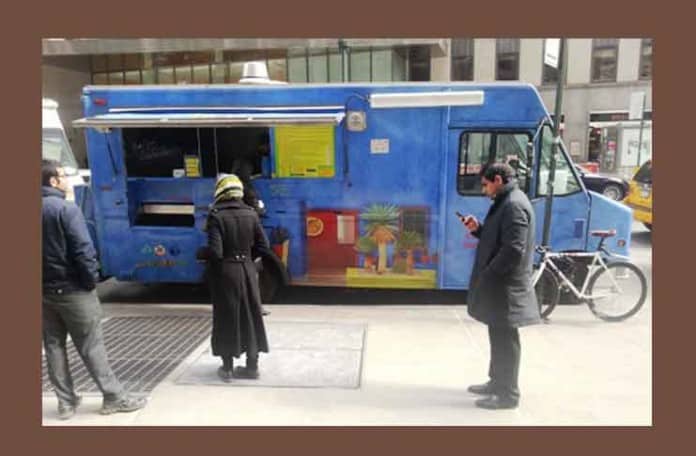 It's a beautiful Cinco de Mayo.  Perfect day for some great street food from the vendors on the right and the trucks below.  Make sure to check the pink Mobile Munchies twitter feed on our homepage before heading out, as the trucks sometimes need to move locations on a moment's notice.
fritesnmeats -We're on 48th & 6th as usual. Call in your preorders til 1130 and avoid waiting on line. 917.292.9226. The El Cubano rides again! The killer Cherry Walnut Brioche Bread Pudding is not to be missed!
CupcakeStop – 50th bet 6&7 : Red Velv,Funfetti,Nutella,Oreo,Van Choc,Choc PB Swirl,Mexican Choc,Cookie Dough,Hummingbird,Choc Caramel Pretzel & Margarita!
schnitzeltruck – Schnitz + beer = perfection.since we can't, we'll have to treat ya with some veal:). Park ave & 26th u ready to get ur mind schnitzed? 11:30
StreetSweets – We will b on 52st & Lexington Av 8a until 3:30p then 9th Av & 59st 4p until 7p. New St Sw specls: Choc covered Oreo's, choc covered strawberries, & 2 types of rugelach, we have individual crazy good cheesecakes today too!
waffletruck – Happy Cinco everyone – Hanover Square btw Pearl & Water today. How about your besta Mexican accento for 1 free dinges??
nyccravings – Pearl btw Broad/Coenties Slip…ready by 11:30!
JiannettosPizza – Morning! 47th and Wall Street both in the city on this gorgeous Wednesday! Call for pickups, 9177530819…..Buy one pie get one for $15.00
ELDiabloTacos – CINCO DE MAYO FUN TONIGHT, TACOS & TEQUILA!! http://bit.ly/besZfP
New Jersey Food Trucks
thekrave – 5/5 – 12:00-2:15, Hudson between York & Grand. 12:00-2:00, Hudson & Essex, Inside Liberty Towers Gourmet….
laspicetruck – hudson@york-12:00-2:00 come try the gourmet sliders and smores dessert
VeganLunchTruck – Toasted sunflower chipotle tempeh over red quinoa pilaf,greens, and cajun fried sweet potatoes with roasted garlic… http://bit.ly/drgUYw
TheTacoTruck – Sorry TTT fans, we are catering a lunch event during our usual service and for dinner, we'll be in Brooklyn on… http://fb.me/xRN6YBty