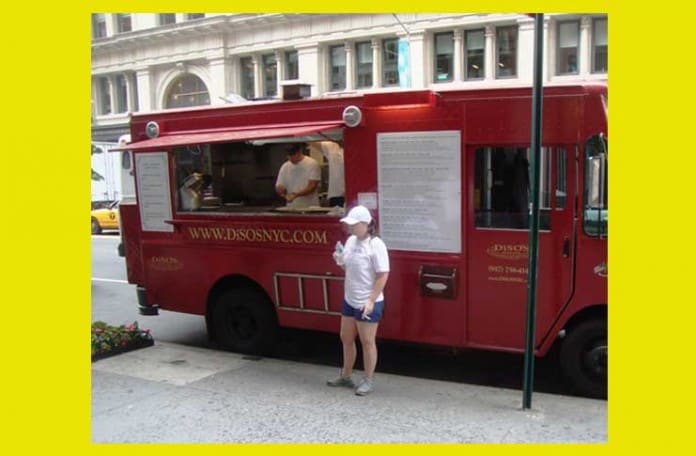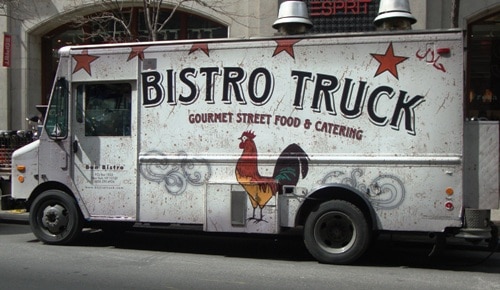 It's a hot one today, but we'll be down at Water St & Old Slip for the Eat St. filming of Bistro Truck.  Come by for some of Yassir's great cooking, and possibly get on TV.  When they were here filming last summer, it was 96 degrees too. Can't these Canadians bring some cool air with them?
There are a "Lot" of options today, such as the Lot at 30th St (& 10th Ave) with a rotating cast of food trucks throughout the summer.  Starting things off are Coolhaus, Kelvin Natural Slush, Red Hook Lobster Pound, The Taco Truck, and the current New York Street Food Featured Vendor, Taim Mobile.
Papa Perrone has their Panelle special (chick pea fritter on a roll w/ricotta & parmigiana Reggiano), and you can get FREE ICE CREAM at Wafels & Dinges when you say "over 90 degrees, ice cream dinges comes for FREEZE!".
If you get some ice cream or natural slush today, be careful to avoid brain freeze – but if you do get brain freeze, you can find some helpful hints here.
Lots of trucks down by Hudson & King again, so make sure to check the Mobile Munchies twitter feed before heading out, in case anyone has to move.  Big D's Grub already had to move once.
BistroTruck On the way to Water & OldSlip. @EatStTweet crew is filming @BistroTruck for a @FoodNetwork & @CookingChannel episode. Come say Hi! yfrog.com/h8reczuj
SweeteryNYC
The hit of Internet Week the FREE blackberry Sweetery whoopi pies courtesy of Yahoo!
#IWNY
the oooo's & aaah's say it all. 18st btw 6&7Ave
souvlakitruck
We know it's hot, but we guarantee the fastest food truck window service in the
#FIDI
, so u can get back 2 the A/C. Old Slip & Front til 2pm
GOBurger Some like it HOT! Doesn't a chocolate shake sound divine?! 55th & 6/7th in 20 minutes.
CupcakeStop
We are at 25th and 6th. Truck 2 is parked at 22nd and Park Ave. Beat the heat have a cupcake!!! Come by and say hello! Our flavors today are: Red Velvet, Funfetti, Choc PB, Van/Choc, Almond Amore, Oreo and PB&J.
CrispOnWheels
We decided to try out Madison Square Park today. We're at 24th and Madison right near Shake Shack.
KELVINSLUSH
We'll be at The Lot at 30th Street for
@HighLineNYC
Phase 2 opening today (11am-11pm): http://bit.ly/mJBDdj (we'll be here Thurs-Sat too!)
CoolhausNY
T2 officially parked in front of 1040 6th ave b/t 39th and 40th with Laurie on board! T1 headed to the High Line 30th & 10th with Vicki!
PapaPerrone
55th Btwn Park&Mad. Eggplant parm try our fresh garlic bread. Panelle special chick pea fritter on a roll w/ricotta & parmigiana Reggiano. Hot Hot Hot. Cool down w/ uncle Louie G's Italian ice. Cannoli,spumoni,cherry,chocolate,rainbow & lemon
waffletruck De Wafel Truck is @ Hanover Sq. Btw Water&Pearl till 4:26. De Goesting Cart @ Greenwich&Murray till 5:18. De Bierbeek is@ 8th+58th til 6:02p. De Vedette is@ 60th+5th til 7:01. De Kotmada is in the Great Lawn till 8:08. Wait there's more…FREE ICE CREAM when you say "over 90 degrees ice cream dinges comes for FREEZE!" Ohh yeah baby!
biandangnyc 11:30-2pm at water st btwn vietnam veterans plaza and broad st
EddiesPizzaNY
46th btwn 5th and 6th for lunch today. All call in orders should be phoned in before 12pm
schnitznthings
hey guys:) it's a scorcher out there! thank god we have AC in the truck;) NOT! we'll be on Park ave b/w 26th & 27th street from 11:30-2:00:) you can always get away from the heat at the store. Open from 11:30-8:00. If you want deliveries we're on seamless or call 212-905-0000:)
lobstertruckny
Red Hook Lobster We have been up all night gettin' our Lobster on for
@HighLineNYC
Part 2 Opening. See you at LOT 30!
Chefsamirtruck Comme Ci, Comme Ça is on 55th St @ Lex today! SPECIAL OF THE DAY: Caprese Salad ($6) mozzarella, tomato, fresh basil, olive oil. Moroccan Mint Iced Tea & Mango Iced Tea! Peach-Ginger Iced Tea! French Blue Lavander Iced Tea!
thejalapenonyc Hello everybody we are on Hudson and clarkson.
bigdsgrub
6/8 (Wed) We are open for breakfast and coffee on Hudson St. between King and West Houston (we moved up a block!!!) COME GET IT!
joyridetruck Good morning West SoHo! We r @Hudson&Charlton. Sorry, probably no drip today, we r having pump probs, but we have some delicious cold brew standing by and ready to male the perfect iced cup.