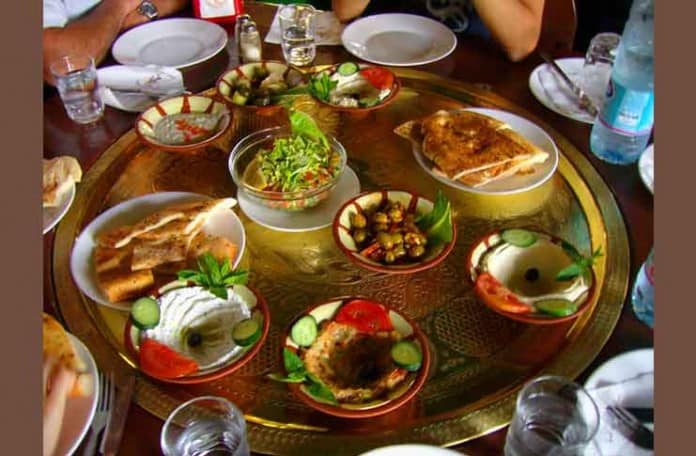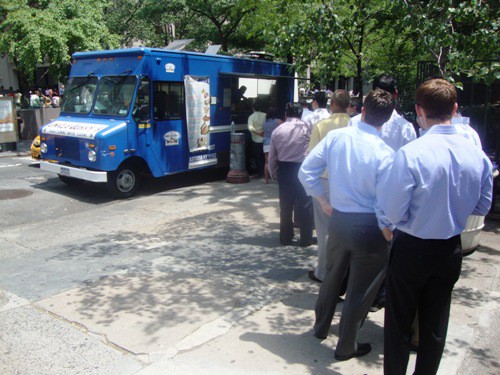 I couldn't eat lunch today because I had to go down to FiDi for the Eat St. shoot with Bistro Truck – but yesterday I made it over to Uncle Gussy's on the SE corner of Park Ave & 51st St for some of their Mom's pastitsio.  That was a great meal!
When I got to the truck around 1pm, I was a little worried because there were 22 people on line (I counted), and I didn't have all day to wait.  Luckily, these guys are pros, and I was out of there with lunch in hand within 10 minutes.
Uncle Gussy's special of pastitsio with a Greek salad on the side was $9, and it was true Greek home-style cooking made by Nick & Frankie's mom.

If you don't know what pastitsio is, it's a Greek cross between lasagna and baked ziti.  Cooked ziti is layered in a pan with seasoned ground beef, bechamel sauce is put on top, and it's all baked.  Man, was this delicious!
The ground beef was seasoned nicely, and it seemed like there might have been a little nutmeg and/or cinnamon in the creamy bechamel sauce.  I should warn you this is a pretty heavy dish, especially on 90 degree summer days, but if you're in an air conditioned office, everything should be fine.  It is a pretty filling meal, though.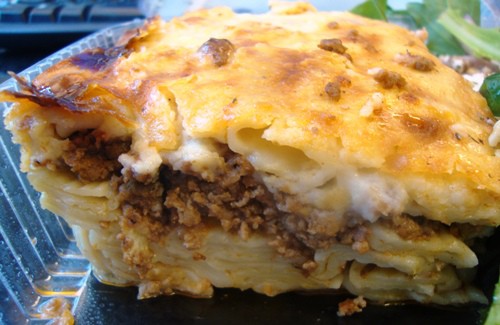 I ate the the Greek salad at the end of the meal, and it provided some refreshment and balance.  Arugula, radicchio, tomato, feta cheese and red onions in a balsamic vinaigrette dressing was a good way to finish this meal.  The bite from the balsamic vinaigrette was a good offset to the creaminess of the bechamel and the pasta.
Lunch of pastitsio and a Greek salad from Uncle Gussy's was excellent.  These guys have really stepped up their game in the past year or so, and you can tell it's working by the lines they have at lunch every day.  But don't worry, the line moves very quickly.
You can follow Uncle Gussy's on twitter here.  They are always on the SE corner of 51st & Park, but they announce the daily specials on twitter, which are definitely worth keeping an eye out for.