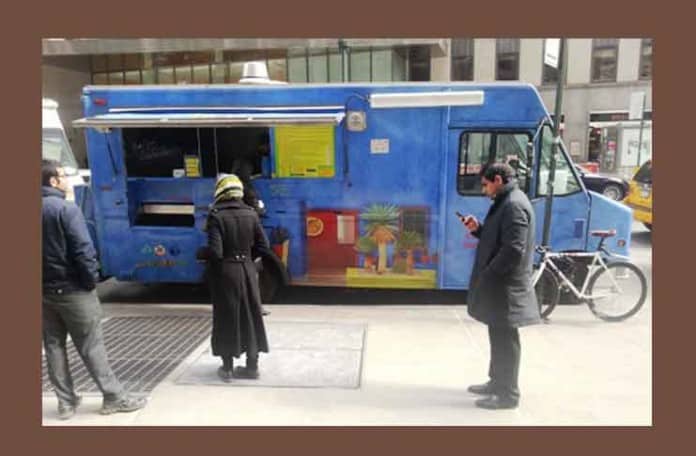 In the words of the immortal Mr. Rogers, it's a beautiful day in the neighborhood.  Make sure you get out for lunch today. The best street carts are listed to the right and the best food trucks are listed below. Enjoy!
StreetSweets – Since we r neighbors today, come out to 48th St & 6th (btw 6 & 7Av) & support both Street Sweets & Frites & Meats, now there's a grt combo.  We r on 48th St just west of 6th Av (btw 6 & 7thAv) until 3:30, then off to 9th Av & 59th St 4-7p come on out!
fritesnmeats – Howdy MIDTOWN! Gorgeous day! Make it better is w/some Burger Love! We're on 48th & 6th. Call us w/ur order & don't wait on line 917.292.9226
CupcakeStop – 50th bet. 6th and 7th w/ Red Velvet, German Chocolate, Funfetti, Cappuccino, Pineapple and fresh brewed Oren's Daily Roast coffee!
schnitzeltruck – 26th & park r u ready 4 the weekly dose of schnitzelitis @ work? Well prepare ur selves:) we'll c u @ 11:30. The weather is schnitztastic;)
waffletruck – Discover the meaning of life today! Hanover Sq. btw Water & Pearl. Time to share your favorite summer cocktail with us, for 1 free dinges.
VLAIC – Kangaroo @ 5th & 15th
VLAIC – Panda @ 23rd & 5th till 6pm
1 new tweet.
RickshawTruck – Happy wednesday! We are on 57th and 8th around columbus circle! We'll be back next week 26th street!
CalexicoCart – Both carts are out today. The special is roasted pork in an arbol & cilantro sauce. Come and get it!
New Jersey Food Trucks
laspicetruck – hudson & york 11:30 – 2;30 gourmet sliders! chorizo, chic, lentilles couscous. dessert- mounds bar in a cup! and cookies de Jade
thekrave – 4/7 Schedule – Lunch #1: 12:00-2:00, Hudson & Essex, Inside Liberty Towers Gourmet Lunch #2: 12:00-2:15,…
TheTacoTruck – No lunch today, we have a private event but will be in Hoboken for dinner tonight.
As always, check the pink Mobile Munchies twitter feed on our homepage for the most up-to-date information.