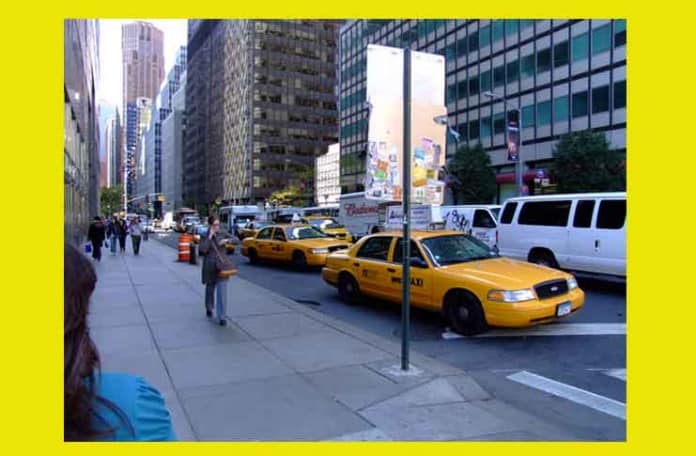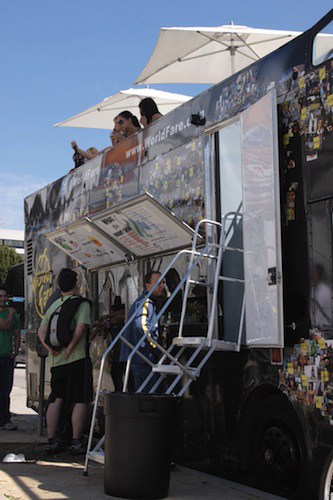 A few months ago, we told you about the Rootmaster Bustaurant in London, a de-commissioned double-decker bus that was converted into a curbside restuarant.  Now there's Worldfare, L.A.'s first bustaurant that actually drives around from place to place.
"We wanted to create a place where you would feel like you're not eating on the street even though you just got your food from a mobile unit," explained Travis Schmidt of his double decker bus, complete with marble countertops and large umbrellas acting as roofing on the top deck. "It's quite special up there. We can do 14-seat fine dining dinners in Malibu or Mulholland Drive over looking Hollywood. We can put bands up there."
Eating atop the bus does offer its advantages. The defined communal space offers a more casual moment to eat and chat with others and with the countertops, you don't have to balance eating and holding your food, napkin and drink all at the same time. But all of that doesn't matter if the food is not good.
As for the menu, it runs the mill from a hybrid of South African street food–Schmidt moved to Los Angeles from South Africa 7 years ago–to a high-end steakhouse.
The core menu mainly consists of Bunny Chow, originally an Indian-influenced South African food where a loaf of bread is hollowed out and used as a container for curry chicken.  Worldfare takes the chow to another level filling the mini loaves with short rib (Worcestershire braised short ribs and horseradish creme friache), BBQ pork (barbeque braised pork with sweet corn relish) and a vegetarian chile (black and red beans, sweet corn, garbanzo beans and tomato). There's also the classic curry chicken (coconut milk, chick peas, cashews and cilantro). Each are $4.
Sides include truffle mac & cheese balls ($3 for 3 balls) and fries with a choice of dipping sauce (mustard creme friache, spincy remoulade and bbq sacue). "Everything is made by hand," said Van Willigan.  Even the sauces are made from scratch.
"Our biggest challenge is people seeing the bus and understanding that they can get restaurant food on a bus and understanding the bustaurant as a concept," said Schmidt. "You can kind of understand the gourmet taco truck theme right now, but people see a double decker and think 'private party?'"
He says the specials will change as events in the world happen. If it's Bastille Day, expect some French food. If a World Cup game is featuring England vs. Spain, then foods from those countries will "compete" on the menu.
Worldfare's slogan is "taste the love, love the taste," and so far it's living up to that promise.  You can follow them on Twitter at @worldfare. [LAist]