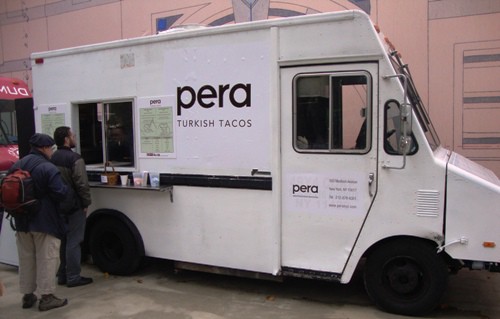 There's plenty of action out there today, and almost all the trucks are out. Uncle Gussy's had some police issues and had to move. As of now, they are looking for a spot.
schnitznthings Morning guys:) truckeroni will be on Park b/w 26th & 27th from 11:30-2:00. Store is open from 11:30-8:) new @robicellis flavors!
RickshawTruck Humpday! Come on out! Rock ctr: 50&6av midtown west: 45&6av TriBeCa: Greenwich&murray we love this weather
KorillaBBQ We're ready for you FiDi! On the corner of Front st & Governeur ln!
TaimMobile Good morning midtown!!! Today 51st btw 6th & 7th! Try our brown sugar lemonade. Also add protein in your smoothie if you like :-)))
UncleGussys Might be moving having some police issues. Drivin around lookin to set up. These are the breaks
EddiesPizzaNY 46th btwn 5th and 6th today. Daily pizza is chicken garlic. $10 bar pie, $12 with lunch special. Try a white pie (no sauce) w/diced tomatoes and spinach. Only 270 calories and very refreshing on a warm day.
Mexicue Vote now for our May Special! http://bit.ly/egiQW0 Finalists: Meximelt, Baked Bean and Cheese (Burrito) Slider, Smokin' Chicken Sliders
SweeteryNYC Gd morning midtown. Surprise Surprise, after repeated requests 4 a return engagement Sweetery is on 50th St btw 6th & 7th Av today til 3:30p