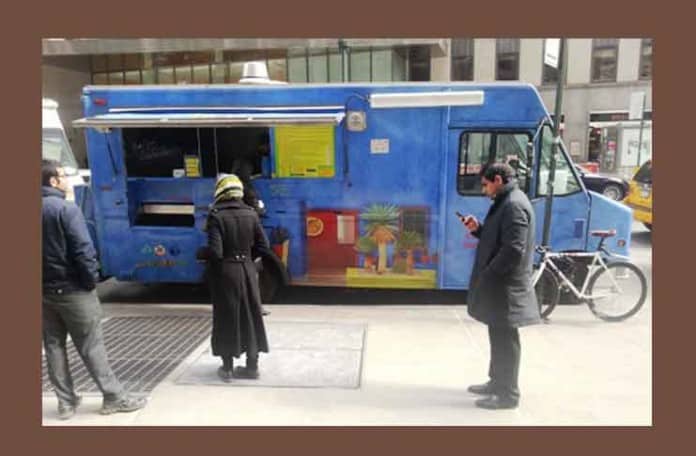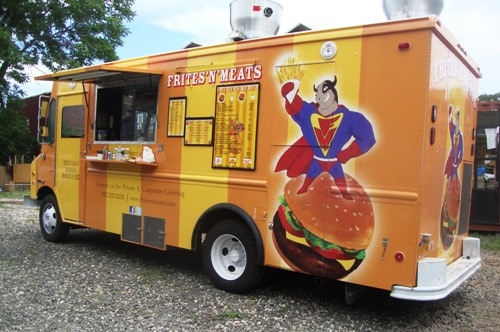 Welcome back! Hope everyone enjoyed some down time over the weekend. We certainly enjoyed taking last week off, but are back and ready to bring you all the latest New York Street Food news.
If you're by Columbia U, Frites 'N' Meats is finally bringing FREE thank you frites to your neighborhood. Enjoy!
Some of the trucks are still off, or taking advantage of a rainy day to do some repairs, but there are still plenty of vendors operating.
The 2011 Vendy Award Finalists have not been announced yet, and we expect that imminently, so stay tuned to NYSF.
And make sure to check the Mobile Munchies twitter feed before heading out, in case anyone had to move at the last minute.
fritesnmeats Hey 116th Amsterdam! We didn't 4get about ur Thank You #FreeFrites! Come n get em from 11 am – 2pm! Thx guys, we missed u!! Burger of the week THE SPICY JAZZ!
BistroTruck
Ready for service at Hudson & King. Special: Fat Liver " Fois Gras" Burger. Special: Fried cauliflowers. Soup: Tomato rice
KorillaBBQ
Sorry Varick & Vandam taking our truck in for some maintenance. We'll make it up to you on Thursday, promise.
Mexicue
Summer just dropped the mic and walked off stage…but Mexicue keeps rocking at 21st and 6th today. Open at 1130
LCBBurgerTruck
The LCB Burger Truck is located at 111 Wall St. today. Come on down for a declicious 100% All Natural Black Angus Steakburger or Sandwich!
Chefsamirtruck
Comme Ci, Comme Ça is on 36th St @ Broadway today! Don't wait in line!!!! Place your order over the phone and pick it up! Tel. 347 935 9807
morristruck Hey there NYC! Come see us at Park ave and 28th St. 11:30-3:00. Special this week: ribeye cheese steak melt with provolone and sauteed onions! that's some good stuff!! Hot grilled cheese on this gloomy day just might make you happy.