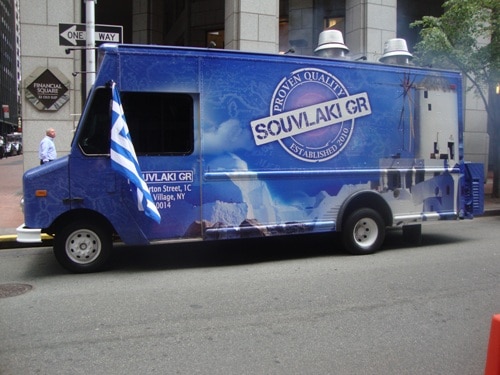 The big street food news today is the announcement of the 2011 Vendy Cup finalists.  Click here for details of all the finalists we will be trying at the Vendy Awards on Saturday.
As for today, Tribeca Taco is bringing back $1 tacos just for today, and Mexicue has their new truck on the road, making it two for them, Pancho & Lefty.
If you want a chance at some camera time, Comme Ci Comme Ca is filming for an episode of Eat St on 36th & Broadway.  I forgot to mention Eat St filmed at Uncle Gussy's yesterday, and they will be at Gorilla Cheese tomorrow and Papa Perrone's on Thursday.
The UN General Assembly is creating havoc for some of the food trucks, so make sure to check the Mobile Munchies twitter feed before heading out, in case anyone had to move at the last minute or is in a different spot than usual.
TribecaTaco Dollar tacos later today. Served the traditional way with cilantro and onion and your choice of sauce. We will be open at 11 🙂
Chefsamirtruck Comme Ci, Comme Ça is on 36th St @ Broadway today!
CupcakeStop
The truck in LIC is on 44 Dr & Jackson Ave. Flavors: Red Velvet, Funfetti, Oreo Crumb, Van/Choc, Tiramisu, Mint/Choc, Fluffernutter! Enjoy!