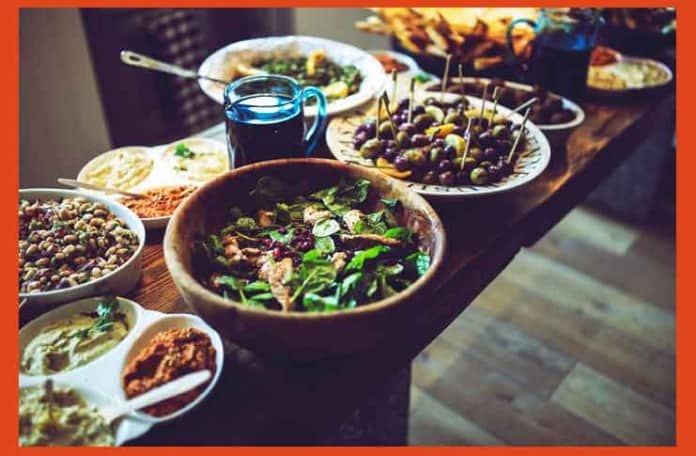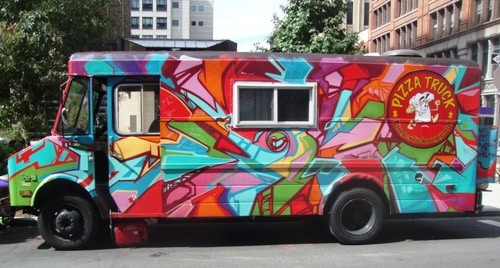 A couple of weeks ago, I received an email from Jeremy Epstein, the new owner of the Pizza Truck of NYC .  He told me that he was the truck's new owner, and that he would be upgrading the truck's menu soon.
When the Pizza Truck of NYC came out last year, they were known for $1 slices.  But it's very difficult to make any money selling $1 slices.
Jeremy told me they were going to start serving sandwiches with bread from Sullivan St Bakery and meats from Faicco's.  I live a few blocks from Faicco's, an old school Italian pork store on Bleecker St, and have been going there for a long time for meats and cheeses.
When I got to the truck, there were 3 sandwich choices – sweet & spicy sausage, meatball, and thick-cut pepperoni.  We've bought Faicco's sausages to cook at home many times, so the choice was pretty easy.
Today's Lunch is a sweet & spicy sausage sandwich ($6) from the Pizza Truck of NYC.

When I picked up the sandwich, it was a decent size, but felt pretty light.  I unwrapped the sandwich and took a bite.
The first thing I noticed was that the bread was a little different.  It was a little crusty on the outside, and very soft inside, and then it hit me – the bread was made from pizza dough!  It tasted just like pizza crust, but the soft, tasty kind, not the hard, chewy type.
The sausage was a mix of sweet and hot sausage.  Most of the time, you can get either sweet or hot sausage at Italian places, but putting them together on a sandwich was a great idea.
I really enjoyed the tomato sauce, which was a little on the sweet side, just how I like it.  The mozzarella cheese was also the fresh type, which was obvious from the way it melted and tasted.
Today's Lunch from the Pizza Truck of NYC was very good, although it was a little light on meat.  I would have preferred more sausage on the sandwich and to pay a dollar or two more.  I know the sandwiches are still in test mode, so that's my two cents.
But I do look forward to trying a thick-cut pepperoni sandwich very soon!