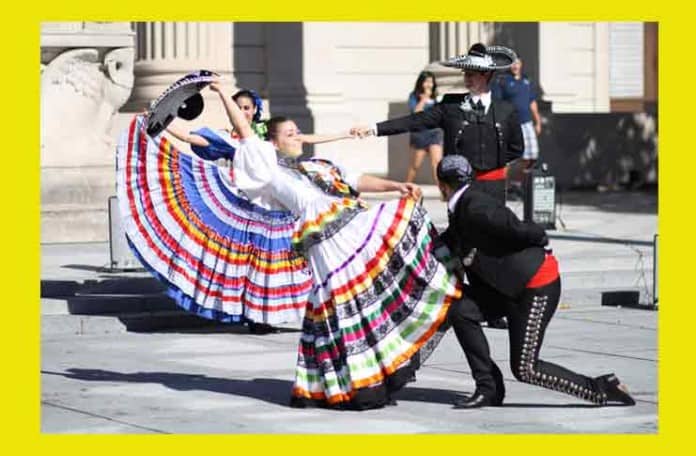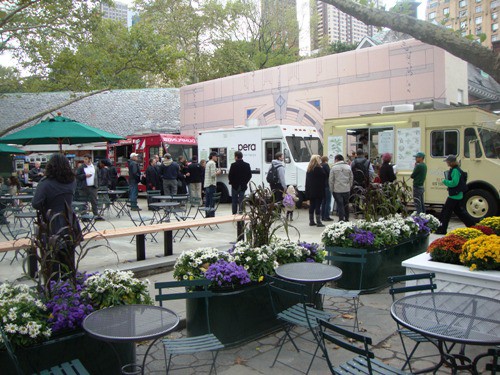 NYSF Update – 10/19/10:  I received an email from a representative of Pera who told me they are currently operating with a temporary truck while their permanent mobile food unit is being built.  They expect to have that truck in place at Tavern by mid-November and it will enable them to expand the menu a bit, as well as offer seasonal specials.
NYSF Note: I'm currently in London for 10 days, but will be posting reviews of some lunches I haven't had a chance to post yet.  First up is Pera Turkish Tacos from the new Tavern on the Green food truck plaza which I went to last Friday, the first day it opened.  Here's my review.
When I heard about the new food truck plaza where Tavern On The Green used to be (CPW & 67th St), I had to check it out.  In place of where one of the most famous restaurants in the world used to be, there is a new state-of-the-art NYC Visitors Bureau and an open plaza with 4 food trucks permanently parked there – 2 of which were familiar with and 2 which were new
The familiar trucks were Van Leeuwen Artisan Ice Cream and Rickshaw Dumpling Truck, both of which I've written about before, so I won't talk about them now.
The 2 new trucks were Ladle of Love, a soup and stew cart, and Pera, which has Turkish Tacos.  Guess which one I wanted to try first?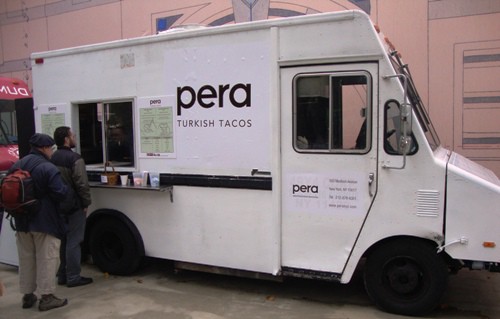 Pera is a Turkish restaurant located at 303 Madison Ave, between 41st & 42nd St.  Now they have a truck, and it had two types of tacos with several choices of fillings – lavash bread tacos and zucchini pancake tacos – as well as a hummus bar (3 types), several side dishes, desserts and hot & cold drinks.
Today's Lunch is lavender & honey roasted chicken on lavash bread ($3.50) and smoked lamb on a zucchini pancake ($3.75).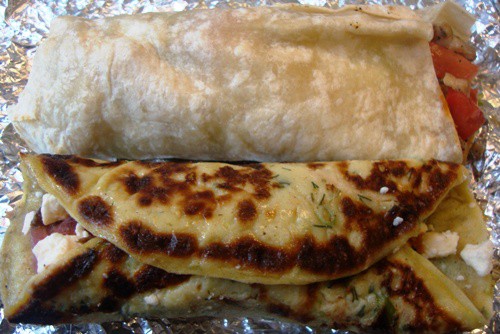 Below is their full menu.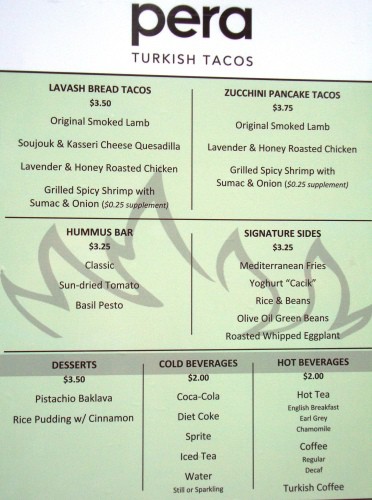 First up was the chicken taco on lavash bread, which I understand is an Armenian bread.  The best way to describe lavash bread is like a cross between the taste of pita bread and the thinness of a flour tortilla.  It tasted pretty good and held up well to the filling both in taste and by not falling apart.
The lavender & honey roasted chicken was delicate and delicious. You could actually taste the honey & lavender imbued in the chicken, as well as a roasted tomato and herb sauce in the taco.  This was very nice, although a little on the small side.  The taco could have used a bit more chicken filling, but it was very good.  There was lettuce and tomato in the taco too.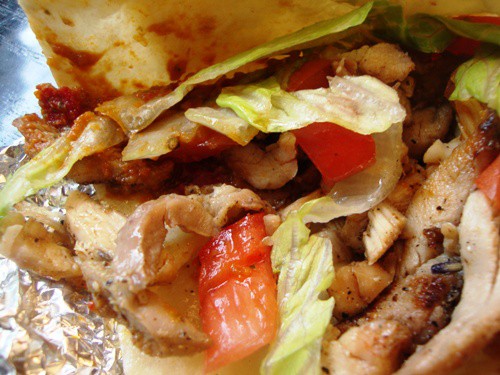 The smoked lamb taco was even better.  They called it smoked, but a better description would be bbq lamb since it was in a smoky bbq-type sauce.  Everyone is used to bbq beef, but you don't see bbq lamb too often – and it was fall-apart tender.
Also in the smoked lamb taco were pickled onions and either soujouk or kasseri cheese.  It tasted like a Turkish version of feta cheese to me, only a little milder.  These added nicely to the overall taste of the Turkish taco – but the big surprise was the zucchini pancake.
The zucchini pancake was eggy, with dill and chives in the mix.  There was some minced zucchini in the batter, but the predominant tastes in the pancake were egg and dill  The lavash bread was good, but the zucchini pancake was much more interesting for an additional $.25.  I wasn't sure if the eggy pancake would stay together for the duration, but it did, and was a nice complement to the smoked bbq lamb.
Today's Lunch from Pera averages to an 8.25, with the smoked lamb an 8.5 and the lavender & honey chicken an 8.  Next time I want to try the grilled spicy shrimp with sumac and onion and the soujouk and kaseeri cheese quesadilla.
If you're interested in soups and stews, below is a picture of someone else's beef bourgignon from Ladles of Love.  He said it was pretty good.  I plan on trying Ladles of Love when it gets a little colder out.