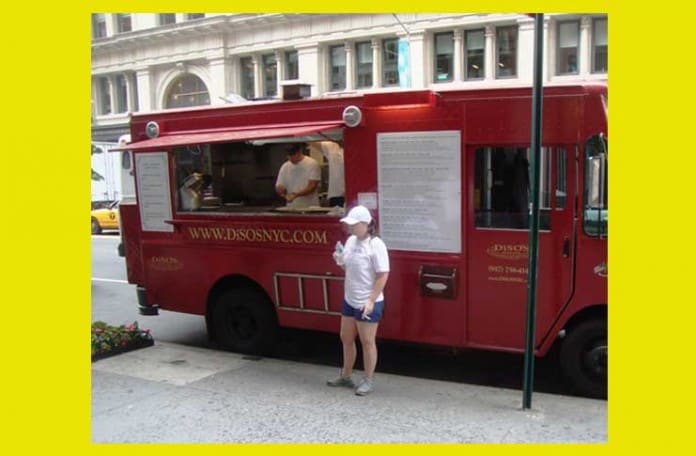 Another beautiful, sunny, summer day in street food paradise.  Enjoy some great New York Street Food from the vendors on the right and the trucks below.
Don't forget to call your councilperson and tell them to oppose the new anti-food truck bill being proposed by Councilwomen Jessica Lappin and Karen Koslowitz.  The hearing is tomorrow and you can find out who your City Councilperson is here. If you can make it, please attend the Council Hearing tomorrow at 250 Bway, 16th Flr Hearing Rm at 10am.  This is a vital issue for everyone who loves the great food trucks below.
EddiesPizzaNY – we are on water and broad street until 3pm. chicken cutlet and hot cherry peppers are todays specials. dont forget our ten… http://fb.me/sU6UsoF5
schnitzeltruck – 46th b/w 5th & 6th are u ready to be schnitzified? Be there @ 11:30! U soon. Come out and support your food trucks! Sign petitions:!
fritesnmeats – Hey Midtown! Burger Loves shining bright! Were on 48th & 6th. Got The Oinker on ur mind? So do we! Come & get it! Takin preorders 9172929226
waffletruck – It's a happy Tuesday on 52nd btw 3rd & Lex. Ah oui! Free dinges for your impression of a soccer defender after an own-goal…
VLAIC – Kangaroo wants you to come try a macchiato or cortado! 5th Av at 15th St http://ow.ly/i/24LE
VLAIC – Panda is at 23rd St at 5th Av from 10am till 4pm! less than a minute ago via HootSuite
RickshawTruck – Tues: 6/15 were serving at 52nd&lex as well as 46th &11th from 11 till 3! Come by and try our special dumpling! What did I just see go out on the trucks today? Was that the chicken saag dumpling and watermelon-ade? whoa! yeah it was! woohoo!
CupcakeStop – Red Velvet,Funfetti,Nutella,Oreo,Van Choc,Choc PB Swirl,Van Choc Chip,Choc Choc, Choc Strawberry,Peanut Butter Cup,Van Van & Apple Cinnamon!
3 new tweets.
BistroTruck – Soup: Vegetable creamy soup ( dairy and glutten free) Dessert: Pudim de laranja ( brazilian orange pudding custard) Good day!World cup Special inspired by Brazil): Feijoado (stewed black beans, steak, merguez, ground meat, served over rice pillafe)w/ side salad
StreetSweets – Good morning Hanover Sq. we r here 4 u all day today starting at 8a. We will b baking all morning.  Come try our Macarella's, it's heavenly!
CalexicoCart – Both carts are on the street. Today's special is shredded chicken in a coconut/citrus mole sauce.  Enjoy
Hoboken/Jersey City
TheTacoTruck – Jersey City – are you ready for lunch? We are….almost! Stay posted for an exact time. http://fb.me/BBDaIRDg
TheKrave – 6/15 – 12:00-2:00, Hudson & Essex, Inside Liberty Towers Gourmet 12:00-2:00, Hudson & Harborside Pl…. http://tumblr.com/xl1blaokq