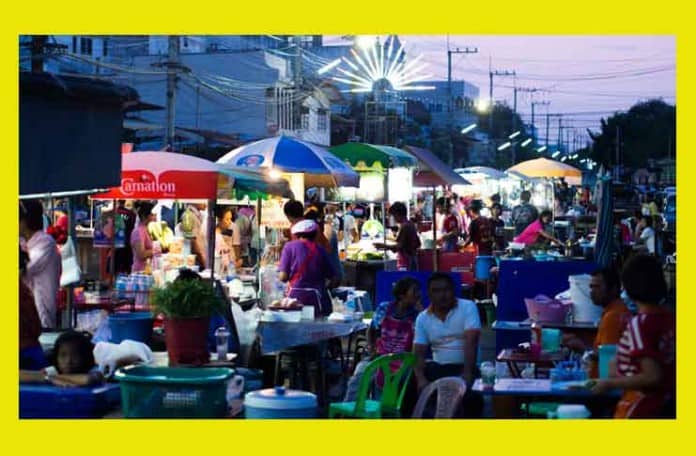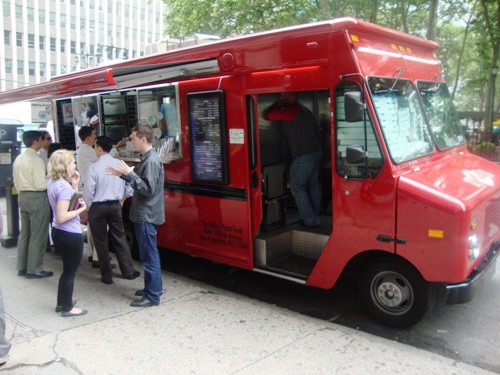 Even though Eddie's Pizza Truck contacted us 2 weeks ago about their impending arrival in New York, we were away on holiday when they actually started serving last Thursday.  From all accounts, it was a madhouse, although that was probably because they gave away 100 free pizzas their first day.
Things seem to have settled down a bit this week, so we checked them out for Today's Lunch.  Click through to see if all the hype was justified.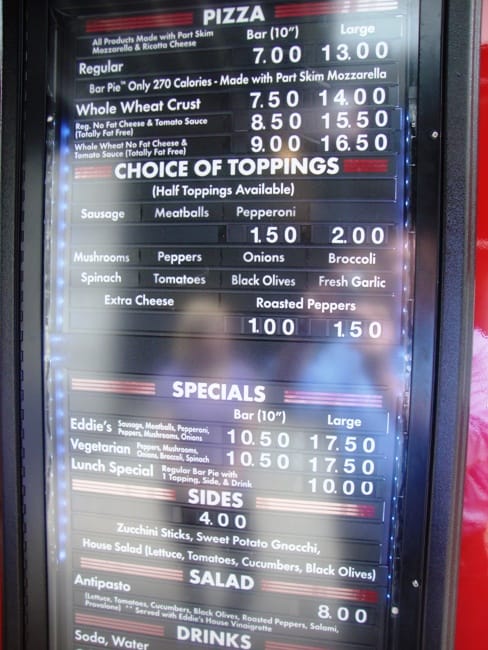 They tweeted the daily special was chicken cutlet and hot cherry peppers, which sounded delicious. When I called ahead to order – which is always recommended – she told me they were actually 2 separate pizza specials.  I said they sounded great together and was told I could have both toppings for $1 extra.  Sold!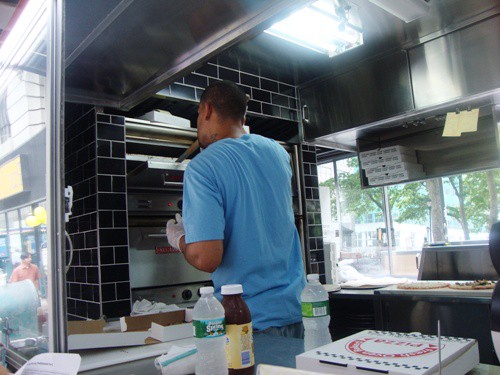 They actually have 4 small pizza ovens on the truck, so everything is made to order.  Calling ahead to 917-439-7522 is highly recommended.  You can avoid the line to order and the wait for your food.  I heard the waits were anywhere from 30-60 minutes last week in total, but this way I just walked up and picked up my lunch with no wait.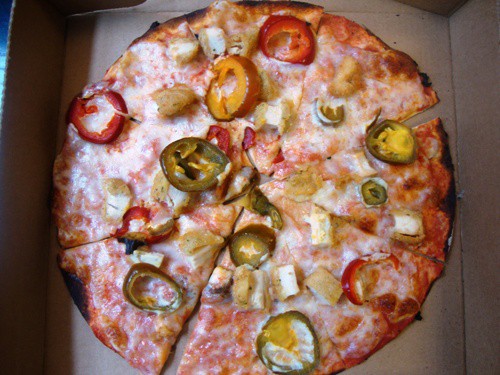 When I got back to the office and opened the box, the first thing I noticed was the smell of hot cherry peppers – a good omen.  This was a very thin crusted pizza with some nice charring around the edges.  As you can see above, the red and green hot peppers were plentiful.
The chicken cutlet wasn't as plentiful, but there were generally 1-2 pieces of chicken cutlet per slice, and it was that Italian breaded chicken cutlet found on good chicken parm heros.  The slices were small because it was a 10″ pie cut into 8 pieces, so 1-2 pieces of chicken per slice were fine.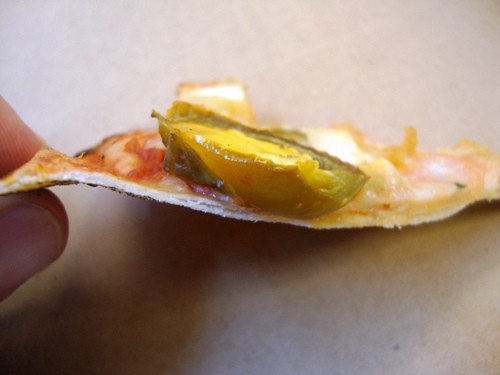 There was plenty of part-skim mozzarella cheese, and the pizza was not greasy at all.  There was obviously tomato sauce, but it was not even close to the dominant taste.  The main tastes were hot peppers, chicken, cheese and crust.  Just how I like it – more cheese and toppings, less sauce.  Even though the crust was very thin, it held up the toppings and did not fall over when picked up.  Nice!
Today's Lunch gets an 8 out of 10.  The chicken cutlet and hot peppers toppings were great.  They lose a little for value – I paid $9.50 for the chicken cutlet and pepper toppings.  I often get 2 great slices with toppings at Mariella's for around $5-6, and it's just as filling – but that's the traditional New York thick-crust pizza.  If you like thin-crust pizza, you will be very happy with Eddie's Pizza Truck.
I do plan on going back to try some other menu items.  The Eddie's Pizza with sausage, meatballs, pepperoni, peppers, mushrooms and onions sounds awesome, but note that it's $10.50 for the 10′ personal pizza.  If the crust can stand up to that onslaught, I will be even more impressed than I was today.