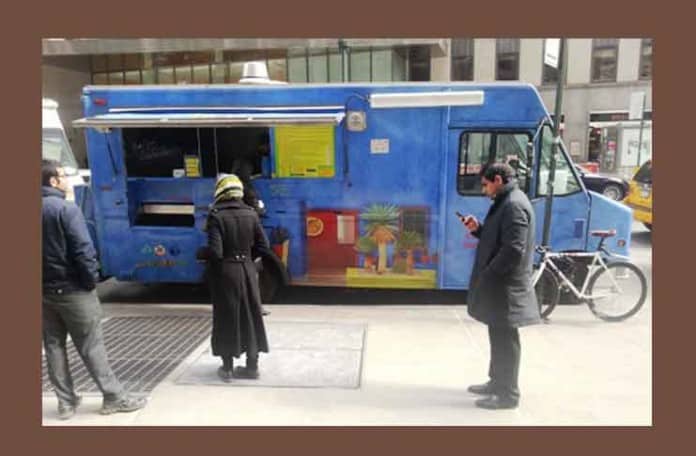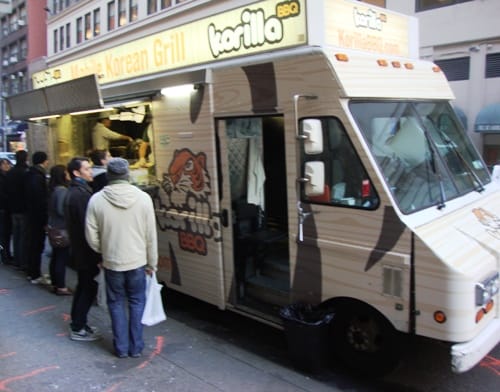 No idea what the weather's like in NYC because I'm in LA right now.  It's going to take a little time to check out some of the trucks here, so don't expect any reviews until tomorrow.
It looks like most of the trucks are out today, with a few new items. Bistro Truck has braised oxtail with raisin couscous and Wafels & Dinges now has spekulous ice cream.  Check below for everyone's location.
We've been having some twitter problems, so you may have to re-follow our Mobile Munchies twitter feed.  Apologies for the technical difficulties.
KorillaBBQ
Crazy Monday morning!!! Sry for the delay, but we wont be able to open up till around 12 at 55th & Lex! Technology is not on our side today!
souvlakitruck
The fast is over. Souvlaki Season has begun. See you at 21st & 6th until 9pm. Or stop by our cafe on 116 Stanton St.,
#LES
.
BistroTruck
Good morning NYC… another grey day but good bistro food at the truck. Special: Braised oxtail served w/ raisin couscous. Now, is this greatness or what.!!! Soup: Celery chickpea soup. Same location on 5Ave-16St 11.30A-4P