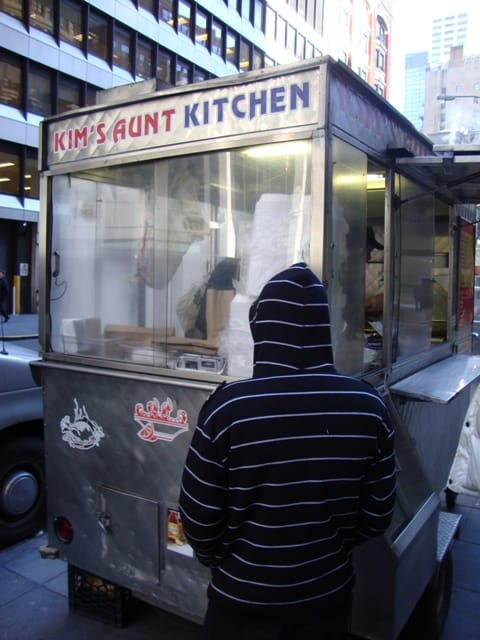 The weather is getting cooler, perfect for enjoying great New York Street Food from the vendors on the right and the trucks below.
There are some new eats popping up around town.  Wafels & Dinges has a new De Pearable Wafel with pears, blueberries and a walnut/brown sugar crumble.  Schnitzel & Things is trying out cheddar or Swiss cheese on pork schnitzel at their store, as well as free samples of brats, knockwurst and brats with cheddar (store only).
The NYC Food & Wine Festival kicks off tonight, and several food trucks will be in the Meatpacking District for the Meatpacking Uncorked event. Gorilla Cheese, Mexicue and Go Burger will be there, and possibly others too.
As always, check the Mobile Munchies twitter feed before heading out, in case anyone had to move at the last minute.
gcnyc1 Gorilla Cheese NYC 47th & Park till 3, then we head over to F & W event, The Meatpacking Uncorked. Washington bet 13-14th in front of Diane Von Furstenberg.
souvlakitruck
Racing down to Old Slip & Front because today is an especially beautiful day for a food truck lunch. #NYCFTA
AndysItalianIce
Good Morning NYC, its friday and the weekend is here. We will be at our normal spot on 19th and Park ave S. 11:30-6:00
UncleGussys Checklist #Gyro ready #Souvlaki ready #chicken ready #sausage ready Were ready Eddie
pizzatrucknyc Sandwich and Hansen's soda special $7! Faicco's sausage and Sullivan St. Bakery bread. 11th ave b/w 46th and 47th. @ogilvyny
schnitznthings K guys so we've got some pork schnitzel filled with cheese in the store today. We've got pork filled with cheddar and Swiss. LIMITED! Also come by the store at 11:30 to sample some free sausages. Regular brats, knockwurst and brats with cheddar.:) mmmmm. Please let us know what you think of the sausages and the Schnitz with cheese cuz we might add to permanent menu if you guys like it:)
UncleGussys Here we go people this is that get out of the office Friday weather 🙂
waffletruck Funtastic Friday! De Truck @ 49th & 3rd until 4:28pm! Carts! Goesting is at 52nd between 6&7th ave all day! Bierbeek is at Columbus Circle in front of the Time Warner Center until 10:29! Central Park Carts! Kotmadam is @ 59 & 6th annddd Vedette is at 60th & 5th ave! Both until sundown! Tell us what the colors of the lights on the empire state b. represent for 1 dinges!
lobstertruckny Red Hook Lobster #MadsqEats opens at 11, Pound opens at 12 & Big Red is on 46th btw 5th & 6th giving away FREE WHOOPIES! Crustacean Domination people!!!
LaNewyorkina LAST weekend to get your paletas outdoors – visit us at hester Street Fair on Saturday from 10-6 or @Highline from 12-8 thru the weekend.
fritesnmeats Hey FIDI it's burger day!! Lunch 2day @ water & broad, burger of the week THE ITALIAN JOB. Today's dessert treats it's our favorite home made Jumbo walnut chocolate chip cookies:) Yeahhhh!! preorder 9172929226 #mobilesecret
CoolhausNY Happy Friday! Beautiful day for a sammie! T2 Parked on 25th @ Park! headed to Union Square West round 4pm. Cart debuts 11-5ish @ Central Park West 80th st, T2 @ Un Sq West 6-7! Secret PW for $1 off 2 sammies: "Old sCOOL" (in ref to Coolhaus University Fall '11 Tour w/ @KorillaBBQ. Spec samm: sw.potato w/potato cook
joyridetruck Hello Stuytown! Come Enjoy the sun on the circle with Joyride.
SweeteryNYC Great Fri. morning to all, we will be on Hudson/King St all day today and loving it, stop by for a little end of the week indulgence.
EddiesPizzaNY street closure on hudson/king. Truck is on Varick/Charlton for lunch today. Carts on 66th/Broadway and Greenwich/Duane st
New Jersey
VeganLunchTruck
The Cinnamon Snail We are on Sinatra and 1st in Hoboken today from 9:00-3:00. We have Crispy Peking seitan with tamarind plum sauce,…
fb.me/158sg4BSr
qbacubankitchen
MHS students -show us this tweet today & receive free slider!
TheTacoTruck
Heading to Washington Park in Newark and will be ready to serve by 11:45. Specias to come….