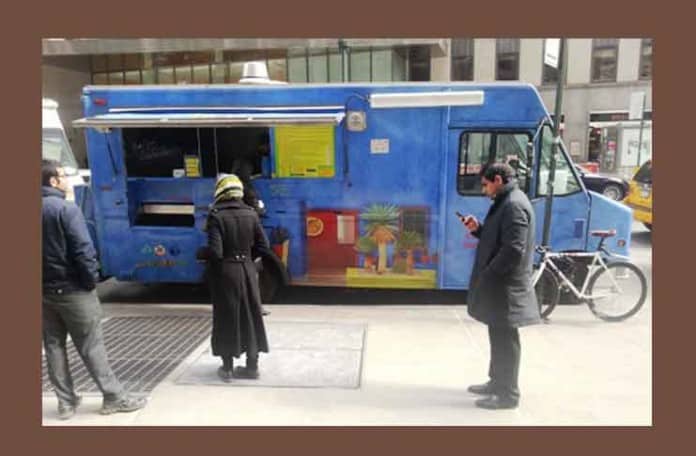 Yet another beautiful sunny spring day.  Anyone sick of the weather yet?  Didn't think so.  Enjoy some great street food from the carts on the right and the trucks below.
fritesnmeats – Howdy FiDi! On Broad & Water today. Come by for some Burger Lovin' or to avoid the line, just call your order in & pick it up. 917.292.9226. The El Cubano -seasoned Angus patty, ham, gruyere cheese, pickles & sassy sauce is insane! The cherry, walnut breadpudding is mind-slamming!
CupcakeStop – 5 & 23rd: Red Velv,Funfetti,Nutella,Oreo,Van Choc,Choc PB Swirl,PB Cup,Starry Night,French Toast,Apple Cinn Oatmeal,Hummingbird &German Choc about 1 hour ago via web
schnitzeltruck – Is it Thur?? Uh oh, today the schnitz zombies come out to play.. Well bring it! We have mountains of schnitz to satisfy the urge, 48th & 6th
waffletruck – Happy Thursday! We're on 46 btwn 5 & 6 til 4:30pm. Tell us a knock knock joke for 1 free dinges today.
StreetSweets – Street Sweets will be on Hudson St btw King & W. Houston from 8a until 5p today, it's going to be a beautiful day come take a walk to see us
nyccravings – 53rd btw park/lex: come for an early lunch…ready by 11!
RickshawTruck – Hey thursday people. We are on hudson and houston also serving at hanover sq from 11 till 3. Come see our special dumplings!
CalexicoCart – Both carts are out! The special today is shredded chicken in a toasted pumpkin seed & chili de arbol sauce. Enjoy
New Jersey Food Trucks
laspicetruck – Hudson @ york 11:30-2:00 mustard chix and rouquette sandwich, dessert; my version of the smores bar in a cup, Jersy city got real desserts!
1 new tweet.
TheTacoTruck – Lunch in JC today @ York St & Hudson St from 11:30-2:30. Call ahead 201.577.4214
Don't forget to check the pink Mobile Munchies twitter feed on our homepage before heading out.  You never know when a food vendor will have to move because of a movie shoot, broken water main, or they are deemed a terrorist threat.