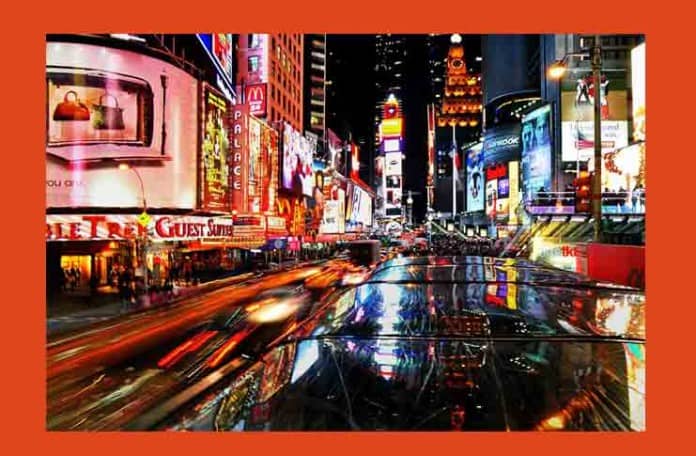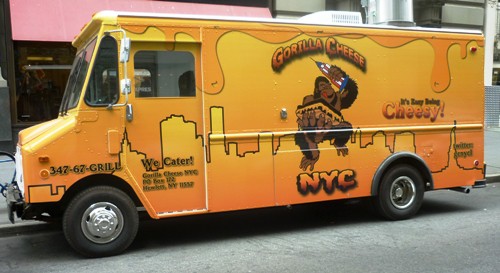 We've been telling you about the new Gorilla Cheese NYC truck for a while now, and we had a chance to get there on Friday.  They have been doing some soft openings around town to work out the kinks, and have been trying out different spots.  I caught up with them on 5th Ave & 18th St.
The menu is pretty extensive with classic cheeses (American, cheddar, mozzarella, gruyere), breads (French, challah, multi-grain, wheat), specialty sandwiches, make-your-own sandwiches with add-ins, side dishes, dipping sauces (more on those later) and dessert.
I didn't feel like sorting through all the options, so I chose a specialty sandwich – smoked gouda with bbq pulled pork & onions on wheat bread ($8.50).  I also got 3 of the dipping sauces to try ($.50 each) for an even $10 for lunch.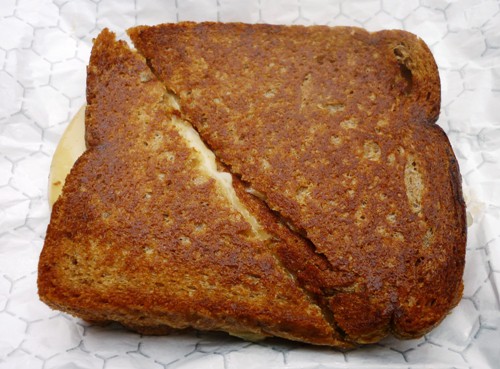 I must have come just after a rush because there were a lot of people standing around waiting for their orders, but there was only 1 person in front of me on line.  It took about 15 minutes from ordering to getting lunch, and then I headed over towards Union Square to sit down and eat.
As I hoped, the sandwich was very cheesy and gooey, and I took a bite.  The first bite tasted of onion and cheese.  The cheese was really good (I love smoked gouda), but the onion was a bit strong until I got to the pulled pork a couple of bites in.  Once I got to the pulled pork, everything was more balanced, and it was a very tasty sandwich.  The bbq pulled pork, smoked gouda and onions is a winning combo.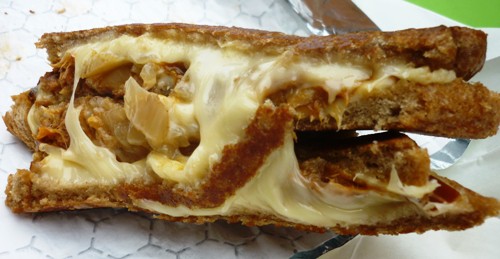 After a couple of bites of the sandwich, I started trying the dipping sauces.  The first one I tried was vidalia onion (sauce on top left), which was like a creamy salad dressing with herbs (tarragon?).  It didn't have a strong onion flavor at all.  I liked the taste of this one by itself, but it didn't really go with bbq pork.  If you get a sandwich with honey ham or smoked turkey, the vidalia onion would be a great choice for a dipping sauce.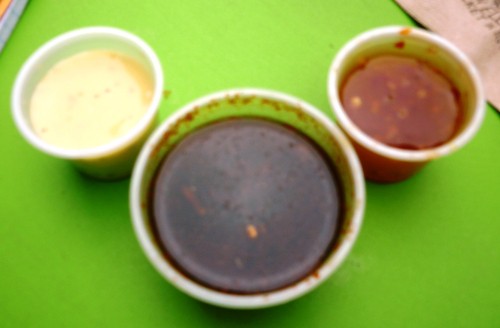 The large sauce in the middle was a soy ginger dipping sauce that was thinner, and had a nice, strong ginger flavor, which gave the sandwich an Asian accent.
The last dipping sauce was my favorite –  a sweet chili sauce (top right).  It was thick, sweet and spicy, and it went best with the sandwich I ordered.  The sweet chili sauce would probably be killer on the fried mac & cheese bites, which gets us to my last point.
I would have like to get a sandwich a and a side order of mac & cheese bites, but with the sandwich, dipping sauces and side order, lunch would have been just under $15.  That's more than I want to spend for lunch, unless it's a lobster roll.
I understand sandwiches being in the $7.50-$8.50 range.  The pulled pork wafel at Wafels & Dinges is $8.50 too.  But when side dishes are $4.50, that puts them out of my range to go along with a sandwich for lunch.
The same goes for dessert.  A grilled smores sandwich on homemade graham cracker bread sounds amazing, but it's another $4.
Gorilla Cheese NYC has a great concept and good execution on the sandwich I tried.  It just needed a little more pulled pork around the edges of the sandwich.  The flavor combination was excellent.
As for waiting time, we expect their speed to pick up now that they are on the street almost every day.
Give them a try for yourself and let us know your thoughts in the comment section below.