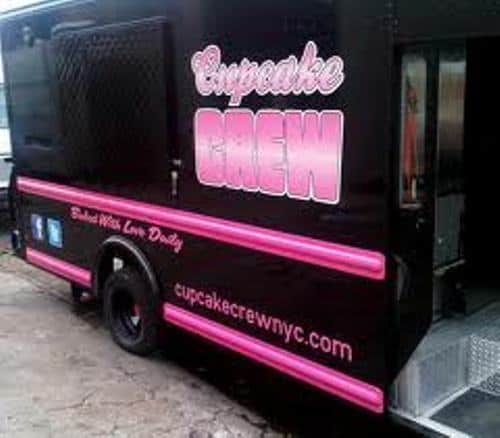 It's a hot, sunny day.  Perfect for enjoying great New York Street Food from the vendors on the right and the trucks below.
Taim Mobile has their excellent sabich sandwich, Gorilla Cheese has a new specialty sandwich muenster with sauteed jalapenos, bacon & BBQ sauce, and there are plenty of other great options too.
A couple of items in case you missed them the first time around.  Sign the NYC Food Truck Petition here to support the food trucks being harassed by the police and business owners.  And make sure to enter our contest to win tickets to the Kelvin Slush Prohibition Party with Don Q Rum on Thursday night.  Should be a fun event.
As always, make sure to check the Mobile Munchies twitter feed before heading out, in case anyone had to move at the last minute.
cupcakecrewnyc
Good morning mid-town East.Today our truck is parked on E52St. & Lexington Ave w/6 flavors. Todays menu:Red Vel,Mint Choc chip,Key Lime,Van/Choc,Coconut Mango & *Turtle(Dark Choc cake topped w/Pecans,Choc chips,Caramel drizzle) All baked fresh DAILY.Come taste the difference!
bigdsgrub
7/11 (Monday) sorry no bfast today due to horrible traffic!!! Heading to 40th and 6th for lunch!
waffletruck
Magicalicious Monday! Le Truck is on Varick btwn King & Charlton til 4:29pm. CARTS! Le Goesting is on Greenwich & N. Moore. Le Kotmadam will be at le Great Lawn a little later. Allez! Order in your most outrageous French accent for #1freeDinges
gcnyc1 Gorilla Cheese NYC Monday 7/11: 11-2:30: FiDi Water & John St. sw corner; 3-8pm: Stuy Town Ave. A & 14th St. Loop; Hold onto your hats – this week's special: muenster with sauteed jalapenos, bacon & BBQ sauce on wheat. Dance that on your tongue!
KorillaBBQ
Happy Monday yall! Korilla 2.0 headed to 55th & Lex, Midtown East! Ready by 11:30. Korilla 3.0 will be ready to serve by 11:30 at 26 bet 11 and 12th ave. See you soon!
KimchiTruck Good morning! Find us at the Lot on Tap @highlinenyc 30th St & 10th Ave 11:30-10pm.
Chefsamirtruck Comme Ci, Comme Ça is on Old Slip @ Water St today!
Mexicue The truck is going to the truck doctor for the day…it gets to have ice cream later so don't feel to bad.
souvlakitruck
Just as you are, we're back to the weekday routine. Headed down to Old Slip & Front Street for a steamy day of souvlaki service. 11:30-2:30.
lobstertruckny
Holy Hotness Lobstars! Come meet Big Red for Lunch, NE corner of 55th & Broadway, Beat the heat with a chilled Lobstah Roll, yo!
BistroTruck Good Morning #Carnivores . Hope u enjoyed the weekend! @BistroTruck is on 111 Wall St entrance. (Wall St & Front St). Lunch service starts at 11.30a-3p. Special: Mix grill (Merguez, steak, chicken over basmati rice & salad w. Salad); Salad: Goat cheese salad w. Grilled portobello.
Valduccis lunch is served on York at 68th St. Get your pizza on!
LukesLobsterNY We're shacked up at 25th & 5th today. Right on Madison Square Park! #Flatiron
TheTacoTruck Monday High Line
EddiesPizzaNY
Check out our new pizza cart. Located at The Lot at The Highline 30th st and 10th av. Every day! Cart number is… http://fb.me/V9s9ggl1
UncleGussys Monday Monday Monday Looking forward to the next weekend It's all good the trUck and crew are ready to serve, deliciousness, 51&park NYC
ETRAVAGANZA Back to rock!!!cajun chicken burritos or quesadillas, skirt steak tacos with spicy guajillo salsa….happy monday!!!!!
CupcakeStop Truck #1 is located on Park Avenue btwn 26th and 27th Streets. Truck #2 is located on Water St and Maiden Lane. Flavors at both trucks: Red Velvet, Funfetti, Oreo, Van/Choc, Choc PB, Choc Caramel, and Very Berry. YUMS.
TaimMobile
Regular Monday spot today! And we have sabich !!
Frying_Dutchmen
We will be open on 47th between Park and Lex at 11:30. Got a case of the Monday's? Our Fries will get rid of it right away 🙂
qbacubankitchen special visit to newark today since we missed one day last week! c u for lunch Newark 11:15-1:30!