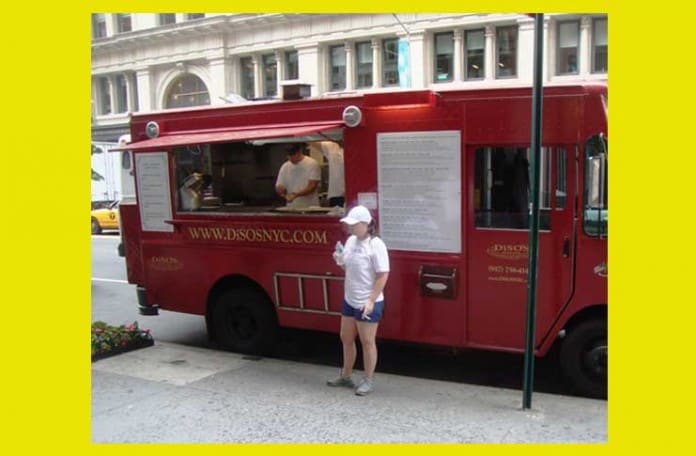 Can it get any nicer out?  Perfect for enjoying some great street food from the vendors on the right and the trucks below.
After yesterday's snafus, the new Long Island City food truck lot has confirmed The Frying Dutchmen, the Desi Food Truck and Treats Truck.  Lots of other great options out there too, including Jamaican Dutchy, who is back in Flatiron.
As always, check the Mobile Munchies twitter feed before heading out, in case anyone had to move at the last minute.
LICfoodtruckLOT Today (all three have confirmed) we have The Frying Dutchmen, Desi and Treats Truck! New picnic tables & umbrellas arriving today!feedyourhole Were between 26th and 27th on Park ave. Who wants there sloppy wieners???
gcnyc1 Gorilla Cheese NYC Friday 11-3 47th & Park (next to Chase). cheese it up! Genoa salami & Provolone on French. It's special. yum!
morristruck MorrisGrilledCheese Good morning y'all. Hangin' on 6th ave at 20th st today. Have some nice local tomatoes on the menu today!
lobstertruckny Red Hook Lobster is playing Bonnie & Clyde today lobstah lovahs. Find us near the skinniest building in Midtown. Trut me, we are worth it.
CupcakeStop Our truck is on Water and Maiden today!
Jamaicandutchy is on the corner of broad way and 21 downtown manhatten…..now serving all your jamaican succulent dishes..
cakeandshake Huckleberry Milkshake! .. just at Cake and Shake!
PapaPerrone 55th Btwn Park&Mad. DJ3K chik parm riceball limited. We will be tweaking the buffalo chik riceball for next week. Eggplant parm best in NYC. Porto bella riceball. Italian ice. Cannoli,chocolate,cherry and coconut.
biandangnyc Vanderbilt ave btwn 46th and 47th.
New Jersey
qbacubankitchen headed to newark! c u for lunch