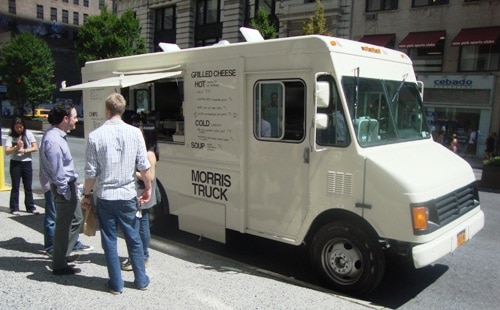 Very busy today with the release of the Amazing New York Food Trucks 2012 Calendar – and you can enjoy food from these great food trucks, as well as many others.  Just check the listings below and on the right.
Korilla BBQ is not out today because they are prepping for their 1st Anniversary Party tonight.  Everyone is invited to the Hiro Ballroom.
If you want to get the party started early, Schnitzel & Things now has beer at their store, both draft and bottles.  Schnitz & beer for lunch, Korilla BBq tonight. Sounds like a plan!
As always, make sure to check the Mobile Munchies twitter feed before heading out, in case anyone had to move at the last minute.
morristruck MorrisGrilledCheese Hey Chelsea! Hanging on 6th and 19th from 11:30-3. Smoked pork butt and ruck ragu. Come get it!
CalexicoNYC
The weekend is here! Prince & Wooster is back! We still have another week of Mad Sq Eats at Worth Square!
RickshawTruck Friday: we are parked at 45th+6av and also 50+6av. we have miso soup on board. miso excited!
schnitznthings Store is open from 11-9. We are now SERVING BEER! We've got the sweet and sour cabbage soup with potatoes and beans:) its soooo good!!
souvlakitruck
The word of the day is: MUGGY. Definitely a salad type day. We've got some, and we're headed to our spot on Old Slip & Front.