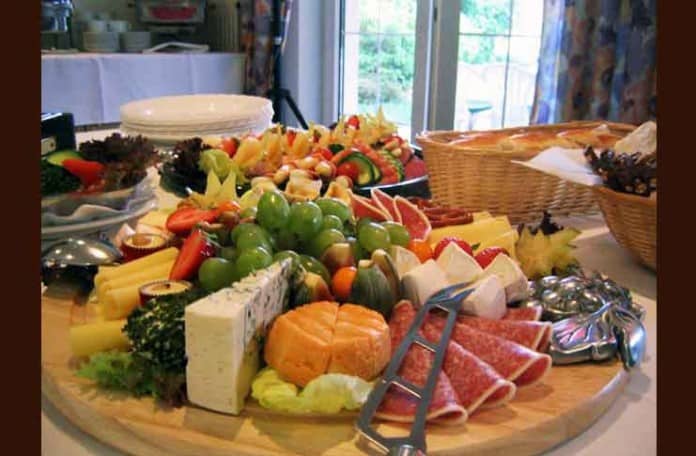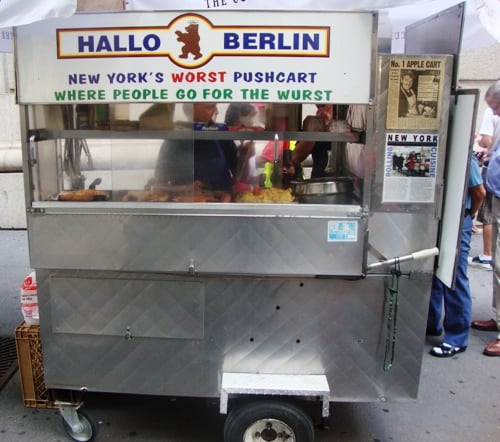 I was walking down 5th Ave at lunchtime, and when I got to 54th St, I looked west and saw that Hallo Berlin only had 3 people on line.  Now that's something I had to take advantage of!
The line at Hallo Berlin, the winner of the very first Vendy Award,  is usually at least 10 people at lunch.   It turned out to be a good call, because by the time I walked away with my lunch, there were at least 8 people on line behind me.
For Today's Lunch, I decided to get a smoked kielbasa ($5.50) and an alpenwurst ($5), both with "the works".  There are 9 different types of wurst available at Hallo Berlin, plus Bavarian meatballs, which the guy in front of me got.  They looked really good too.  You can view the full menu here.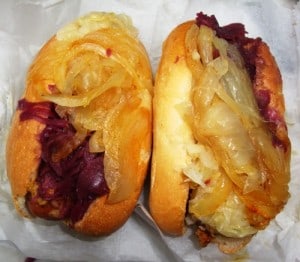 When you get "the works", Wolfgang puts red cabbage on half, sauerkraut on half, and grilled onions on the whole thing.
I started with the alpenwurst, which is a chicken sausage.  I'm not usually a fan of chicken sausage, but this was delicious!  I expect chicken sausage to be light and mild, but the alpenwurst was light and spicy.  Not brutally spicy, but spicy for a German sausage.
The spiciness of the sausage was somewhat tempered by the red cabbage and sauerkraut – but the grilled onions added a nice kick too.  The skin of the alpenwurst was crispy, and snapped when I bit into it, with the inside soft and smooth.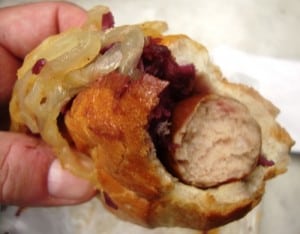 Next up was the smoked kielbasa.  It did have a nice smoky flavor, and wasn't spicy at all.  It's inside was rougher and a little on the hard side, especially compared to the soft alpenwurst.
The smoked kielbasa was decent, but of all the wurst I've had at Hallo Berlin (bratwurst, weisswurst, alpenwurst and smoked kielbasa), the smoked kielbasa was my least favorite.  Maybe because it's a Polish sausage rather than a German sausage, and Wolfgang really does up the German wurst well.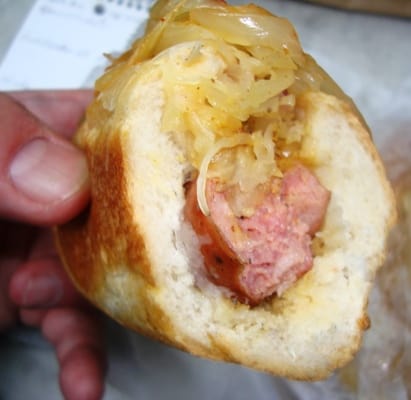 Today's Lunch from Hallo Berlin was a mixed bag.  I loved the alpenwurst and "the works", but wasn't crazy about the smoked kielbasa.  Next time I want to try the bauernwurst…or the Bavarian meatballs, which looked wonderful.