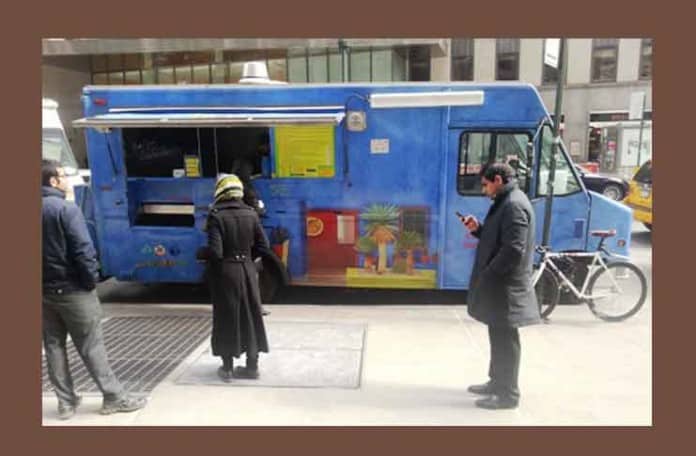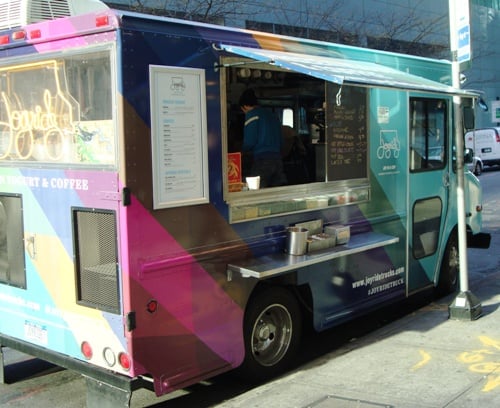 Very busy today, but you can enjoy some great New York Street Food from the vendors on the right and the trucks below – as long as they aren't chased away by the police.
Before you head out, make sure to check the Mobile Munchies twitter feed, in case anyone had to move at the last minute.
SweeteryNYC Park Av & 52nd St you are next 12p- 4p!
lobstertruckny We don't care about no stinkin' rain! Today we are docked on 46th between 5th & 6th. Service at 11.
bigdsgrub 6/24 (Fri) Lunch grub will be ready at 11:15 am at 53rd and Lex!!!!
LukesLobsterNY Get your galoshes, Columbus Circle crew, we are on Broadway between 55th & 56th!!
bongobros 20th st. and 5th ave today from 12:00 to 4:00
CupcakeStop HI fans! Truck#1 parked at 33rd btwn 7th &8th ave. Truck#2 parked at Varick btwn King & Charleton. Come on down! Flavors today are: Red Velvet, Fun-Fetti, Oreo Crumb, French Toast w/ Bacon, Canoli, Chocolate Peanut Butter, Vanilla Chocolate. Delicious!
Mexicue Clouds…providing natural shade people standing in line for thousands of years. 55th and Lex at 1130!
BistroTruck Bistro Truck is on 5Ave-16St AKA D NEST.
schnitznthings The truck will be at it's usual Friday location. So you know what to do and where to do it:)
KorillaBBQ Korilla 2.0 at the highlines 30th & 10th Korilla 3.0 still reppin flatiron Fridays 25th & Park See you soon!
cupcakecrewnyc Good morning Bryant Park-TGIF!Our truck is parked on W40st & 6Ave. w/6 stunning flavors. Todays menu:Red Vel,Van Raspberry,Coconut Mango,Maple Bacon,NY PPmint Patty & Rocky Road(choc cake w/marshmallows,pecans,walnuts & choc chip
waffletruck Mamma truck's @ 49th and 3rd Av till 4:21pm. Carts! Goesting has moved to 52nd street between 6th & 7th ave until 5pm. Bierbeek @ Columbus Circle until sundown and Vedette @ 60th and 5th until Sundown Kotmadam @ the Great Lawn by the Delacorte Theater until sundown..In celebration of our royal visit, order like you're addressing royalty and get a free dinges!